iPad 2 Accessorizes: Smart Cover & HDMI Out
iPad 2 Gets New Clothes, HDMI.
Published Wed, Mar 2 2011 5:25 PM CST
|
Updated Tue, Nov 3 2020 12:32 PM CST
Even though there's no USB Port, iPad 2 still got some pretty cool accessories today at the unveiling.
Smart Cover
As you can see from the video, this cover is all magnets and intelligence. The cover, made of microfiber, attaches magnetically to the side of the iPad. It's unique design allows the user to fold it into two different stand positions, and it's quite lightweight as well. Not only does using the cover clean your iPad screen, it automatically puts the device to sleep, too- which will of course reawaken when you fold back the cover. Pretty darn nifty- and it's available in polyurethane (bright colors) or leather (earthtones), albeit at a moderate price tag of $39 and $69, respectively.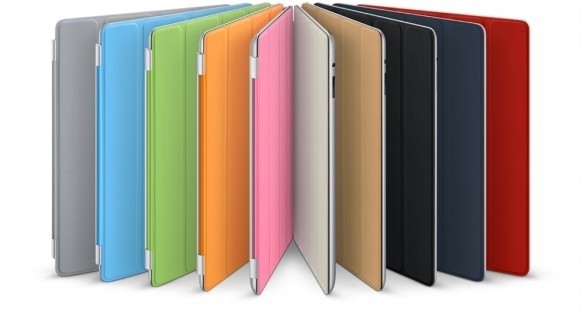 HDMI Out
Apple, famous for the restrictiveness of its post-PC devices finally gives us more than, well, an Apple cable.
But it's kind of still an Apple cable: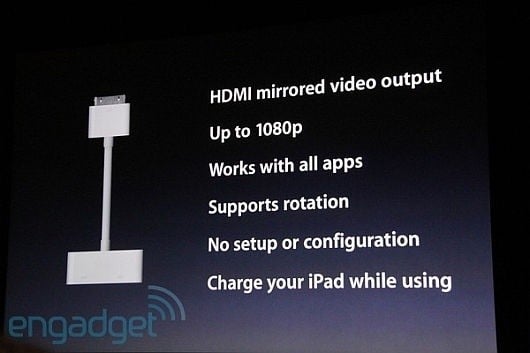 As the photo explains, the cable piggybacks onto the already familiar Apple non-PC port to allow the user to charge their iPad (or iPhone or iPod) and use get HDMI out at the same time. The coolest part: it supports screen rotation and
all apps
. It "only" costs $39.
So go, iPad 2 user: flatscreen your Angry Birds, YouTube, Hulu+, etc., and try to forget that you could already do similar stuff with your laptop, regardless of the make and model.
Related Tags