NVIDIA announces the birth of the Super Phone
Seeing the birth of a new era.
Published Wed, Jan 5 2011 6:32 PM CST
|
Updated Tue, Nov 3 2020 12:32 PM CST
CES 2011, Las Vegas -
Today NVIDIA announced the birth of a new generation of personal computing devices. Co-Founder and CEO Jen-Hsun Huang took the stage in a conference room in the Venetian and told the packed room that he was as excited about this year's CES as he was about the birth of DirectX and the Launch of Windows 95. Although by todays measure neither of these is a big deal and to many would seem comical Jen-Hsun went on to explain that with that single step the whole concept of the PC changed.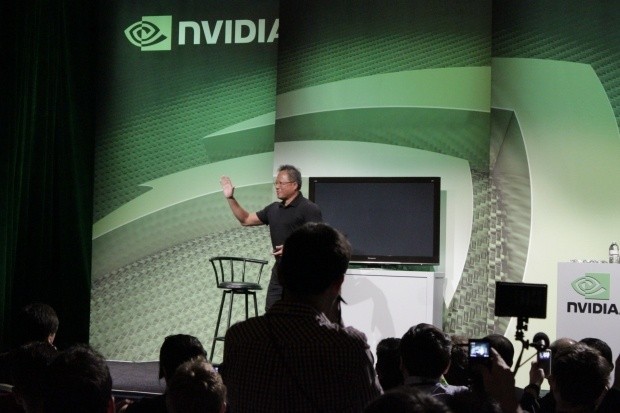 The reason he is this excited is because he feels the computing world is going to change again. After leading us through a few slides (mostly numbers and growth charts) he told us that he was not going to do an actual product launch (but he did a little later). He casually mentioned Tegra 2 and that there would be some announcements about it throughout CES. Instead he said he was going to introduce to us a new product family. He called this "The Super Phone".
Huang went on to explain that The Super Phone was the next evolution in the smart phone. It was first and foremost a personal computing device and a phone second. He said that this distinction was important as most of today's smart phones are a phone first. The new generation of Super Phones would have unparalleled multitasking capabilities, (when compared to mobile devices) be able to run in HD and also be a very personal device. He then introduced Yongseok Jang, VP of Business Strategy, Mobile Communications Company from LG. Jang took the stage and presented to Huang his own Tegra 2 based Super Phone the LG Optimus X2. This new phone is based off of the Tegra 2 SOC that we have been waiting to break the surface for almost a year now. Tegra 2 was announced back at CES last year and it is only now that we are seeing it.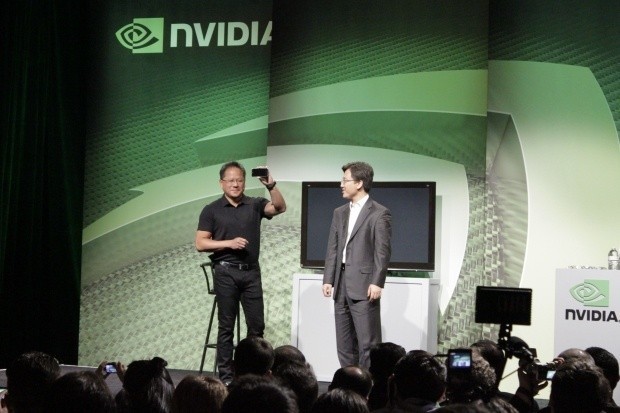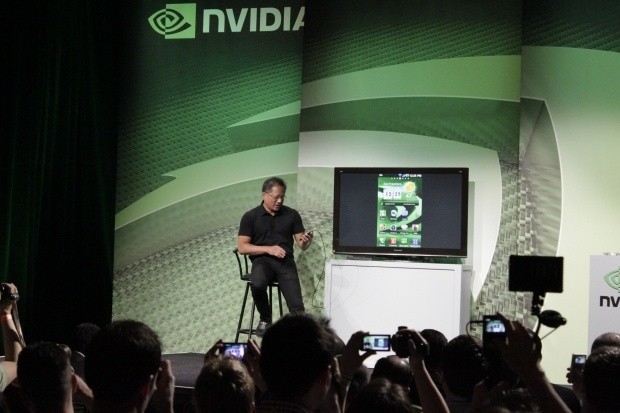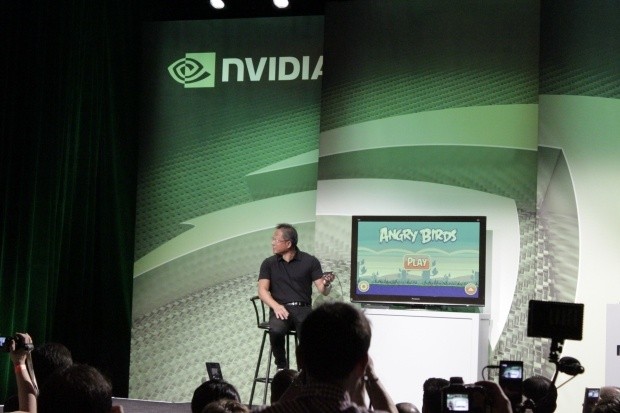 Huang then hooked up the phone to a 1080p capable display and began something of a live demo. He showed us the UI and how the GeForce GPU inside Tegra 2 could handle it with ease. He also showed us some gaming in 1080p by playing Angry Birds right on the phone. Next he tried to show us how Tegra 2's hardware accelerated Flash capabilities worked, but unfortunately the number of users in the crowd prevented him from connecting properly. He joked with the audience asking them to free up some bandwidth but finally gave up with a tongue in cheek "you guys suck" and asked us to imagine how it would be to see rich and fast Flash content on the phone. He also went on to show a number of sites that were limited without the use of Flash.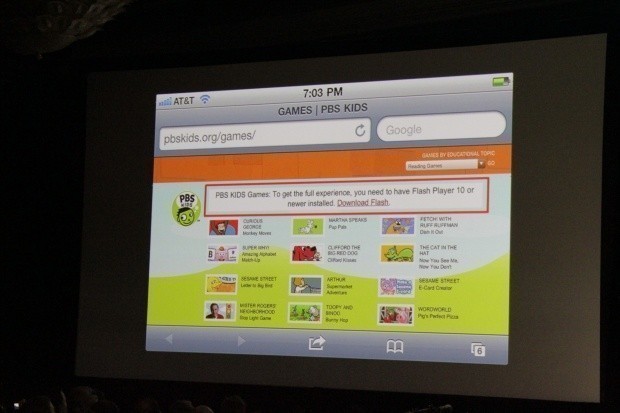 There were more demos including watching a video of two Android based phones side by side playing the same flash based game. One was the new Optimus X2 with hardware accelerated flash and the other was not. It was like night and day, however we were not privy to the specs of the other phone so the demo, while impressive, left me a little skeptical.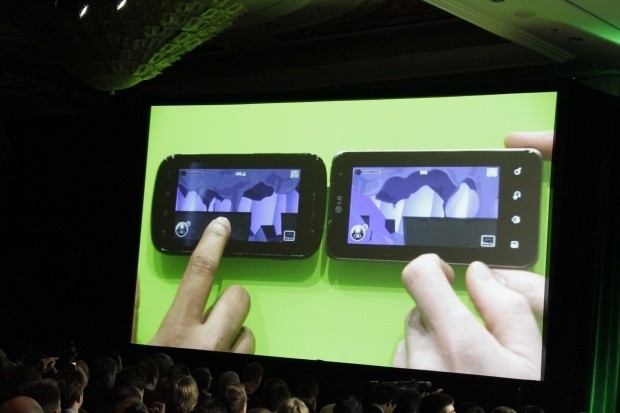 Huang then brought up Shantanu Narayen, the President and CEP of Adobe. They waxed philosophical about Flash, its place in the market and the "non-issue" of HTML5 and Flash on the same device. I have to say I completely agree with them there. HTML5 and Flash content can coexist. It is the developer that choses how they want to develop their products. So while the conversation was something of a deliberate jab at Apple what they said was perfectly true.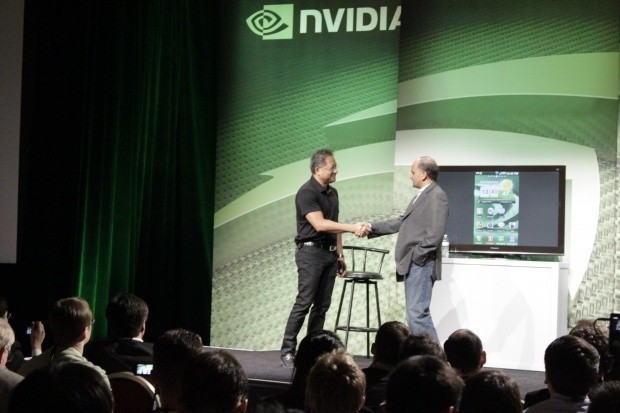 After that little show we were treated to seeing a couple of new games running on their native platforms and then on the new LG Optimus X2. Now those demos were very impresssive. We will have some video of that for you later after we have had time to edit it. For now let's just say that it looks like Tegra 2 might be late, but it is sure looking like it is going to be VERY much worth the wait. We will be trying everything we can to get a couple of products in to review for you just to show you how much you can expect from this new little chip from the big Green machine. It looks like Huang's desire to make Tegra 50% of their business revenue could very well happen this year if things pick up from this CES forward.
Related Tags