Lightscoop makes your DSLR flash work better
Lightscoop makes camera flash work better.
Published Nov 16, 2010 1:32 PM CST
|
Updated Tue, Nov 3 2020 12:33 PM CST
0 minutes & 48 seconds read time
One thing you can count on when taking pictures of a baby is that the flash is probably going to scare the little guy. That means you have about one or two shots to get the image you want before the kid is screaming. The same goes for pets, they don't like the bright light either. The other thing about the built-in flash on most DSLRs is that it's just not that great for taking images.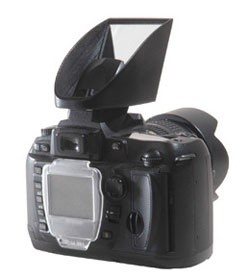 A cool product called the Lightscoop is available for just about every DSLR camera on the market. The thing hooks to the pop-up flash on a DSLR camera and has a mirror that shoots the light up to the ceiling and makes it more diffuse. The result is that the bright flash isn't right in the subject's eyes. The flash bounding off the ceiling also lights the subject more evenly.
The Lightscoop works with DSLRs from Canon, Fuji, Nikon, Olympus, and Sony. It can be had in standard or warming versions for $29.95. It comes in a version for Sony cameras only and a universal version that works with other cameras. You can also buy both the standard and the warming version together for $49.95.
Related Tags