Apricorn unveils epic Mac Array for Mac Pro desktop
Speed up your Mac Pro!
Published Thu, Nov 11 2010 2:00 PM CST
|
Updated Tue, Nov 3 2020 12:33 PM CST
One of the major downsides facing a Mac computer user is that Macs tend to not be as upgradable by the user as PCs are. That means that often what you get from the factory is what you have to live with and if you do try to upgrade your warranty might be toast. If you are a user of the Mac Pro desktop computer, Apricorn has a new upgrade that will leave you with some serious geek lust. The new device is called the Mac Array.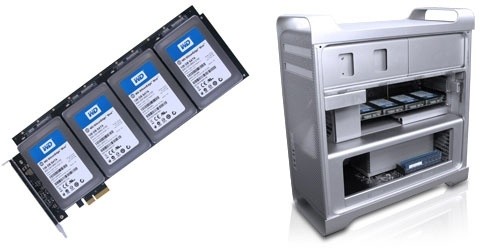 The Mac Array is an internal SSD array that is mounted to an x4 PCI Express card that fits into one of the two PCIs slots inside the Mac Pro. The card includes a quartet of 128GB SSDs for a total of 512GB. Apricorn says that the Mac Array is designed to bridge the gap between your Mac Pro's slow HDD and RAM to act as virtual memory. The Mac Array promises to increase performance up to ten times the performance of the same machine without the Mac Array.
Apricorn tested the Mac Array with Disktester, claims that read rates were 10x faster, and that write speeds increased by 6.8 x compared to the same machine with the7200rpm HDD only. For even more performance, a pair of the Mac Array cards can be put inside the computer. The extra memory space can also be used as a scratch disc by graphic artists for much faster performance. Each of the Mac Array's comes with the four SSDs and sells for $1499.
"Designed specifically for those in the creative industry, the Mac Array provides an affordable, turnkey solution for those looking to boost their Mac Pro's processing power," said Mike McCandless, VP of Sales & Marketing at Apricorn. "By greatly decreasing rendering and processing times, the Mac Array quickly pays for itself in recouped hours and increased throughput. With the ability to add additional Mac Arrays to the same system, users are able to configure their system to meet their processing needs."
Related Tags