NVIDIA's Fermi finds a new use
Google regrets its April Fool's joke.
Published Thu, Apr 1 2010 9:18 AM CDT
|
Updated Tue, Nov 3 2020 12:35 PM CST
Today our moles were hard at work. They have uncovered a couple of rumors for you to gobble up with your chocolate bunnies and peeps. The first concerns our old friends at NVIDIA. The rumor here is that they have decided to take Fermi GPU's that do not pass QA at any acceptable speeds and resell them to Matel for their new model of Easy Bake Oven.
Jen Sun Haung, NVIDIA's CEO was quoted as saying they felt that by using a Fermi over the traditional light bulb new owners would be getting a 50% decrese in cooking times. The new program will be dubbed TWIMTBB (The Way it's Meant to be Baked). Easy Bake Ovens with Fermi inside will hit the stores sometime in June. There was no word on pricing, but some sources are saying they expect the new Fermi based "nuclear" Easy Bakes to be over $200. An ASUS engineer was also quoted as saying "we can overclock it, too" while a source at GIGABYTE referred to needing more copper in the design.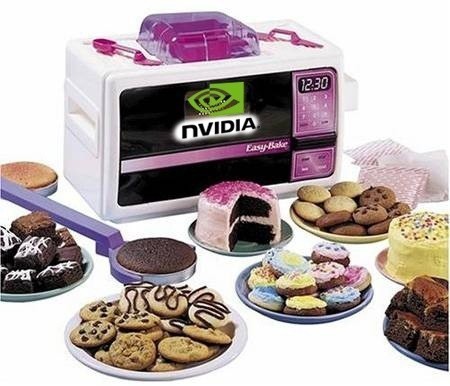 Next up was an interesting rumor that was heard in the executive wash room over at Google.
It seems that some at Google are not overly happy with this year's April Fool's joke. Google renamed themselves Topeka poking fun at Topeka which renamed itself Google, Kansas. Eric Schmidt was heard to exclaim while in a stall "have you ever been to Topeka?! People will think we are nothing more than a bunch of Malls and liquor stores now!" Schmidt then said, "Why can't we just make another comment about Net Neutrality or say how much we respect people's privacy?"
Of course the real joke came a day early when Google sneaked in the three letter sting "rfa" into all searches originating from China. RFA is often use to stand for Radio Free Asia. This funny little joke caused all internet searches that were put through Google to be blocked by the Great Firewall of China. One executive at Google was heard to call the joke a "Hoot" while buying a Soy Latte in a local Starbucks, while another said "we wanted to put in "boobies" but it just didn't work out.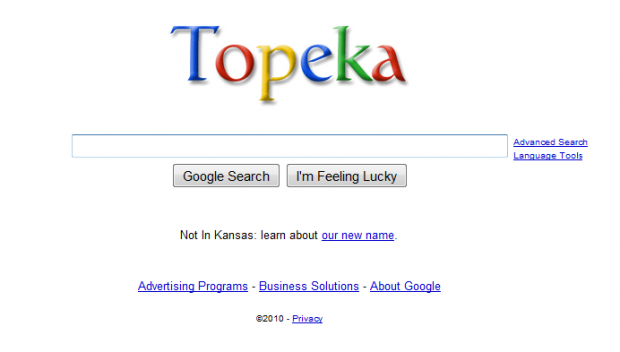 Well that wraps up our April 1st Edition of the Water Cooler Rumors. We hope you had fun with it. Also please remember, it's a joke...
Related Tags