Gulftown Smiles for the Camera
PCGames Hardware shows of their new toy.
Published Fri, Sep 18 2009 10:53 AM CDT
|
Updated Tue, Nov 3 2020 12:36 PM CST
Although the Intel 32nm, Six-Core Westmere is still a long way away, there have been a few new sightings of the coveted piece of silicon.
The latest is over at PCGames Hardware. Although it is hard to tell exactly what this is, as there are no markings visible on it. It is easy to tell that it is not a Bloomfield by the layout of the underside of the CPU.
Also absent from the sighting are any type of performance testing but we have a feeling that some form of benchmark will be coming out soon. The Gulftown CPU will be the nest evolution of the Nehalem Architecture and will add an extra two cores (4 threads) to the already formidable processing power found in the current Core i7 9xx CPUs.
AMD has plans to counter this with a desktop version of the Istanbul 6-core CPU later in 2010. Time (and testing) will see who have the better 6-core part next year. Until then we can only eagerly read the scribbling's of the luck few who have them already.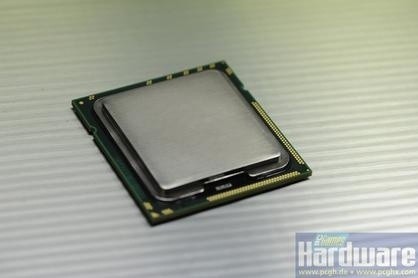 Related Tags