More hands-on time with the Zune HD
Browser and Keyboard pictured.
Published Mon, Aug 10 2009 10:12 PM CDT
|
Updated Tue, Nov 3 2020 12:36 PM CST
There is more news in the world of Zune HD. After the leaked shots we told you about this morning it seems that Yahoo! tech got to spend some quality time with the new PMP from Microsoft.
They loved the browser (despite being base on IE mobile) where they said that it was able to handle full HTML without skipping a beat. Zooming in and out of pages is similar to the iPhone's "pinch" method.
The keyboard also appears to be similar to the iPhone with the larger letter that pops up when you press a key. Music controls were good with an easy mthod of skipping tracks (simply touch either side of the screen)
There are a number of features of the Zune that will make this a contender for your PMP dollar not the least of which is the tiny yet powerful nVidia Tegra under the hood. 720p HD video support, WiFi with WPA and WEP encryption. Full HTML capable browser and an OLED screen.
Still despite its looks (it has been described as the sexiest Zune ever)and power, MS has an uphill battle there are many similarities between the new Zune and the iPhone/iPod touch this will bring the fanboys out of the woodwork screaming that MS stole the ideas from Apple again. Plus let's not forget that Apple's marketing department is one of the best out while Microsoft's has been lagging a little behind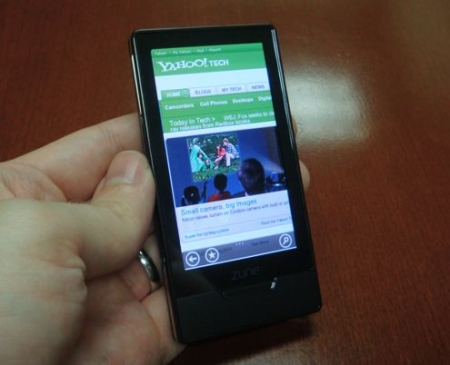 Source
Related Tags