EA Officially Announces Command and Conquer 4
Ready in 2010 for PC Only.
Published Fri, Jul 10 2009 6:01 PM CDT
|
Updated Tue, Nov 3 2020 12:36 PM CST
If Command and Conquer is your thing you will be happy to know that the slip-up by EA was not a mistake.
It is now official that Command and Conquer 4 will be coming to an overpriced game shop soon. Ok it won't be until 2010 but it is still officially coming.
The new installment is the final chapter in the Tiberium Saga. We can only hope that this one will be up to the rest of the series.
GameSpot what appears to be some nice screen shots up on their site although it is too early to tell if they are actual game play or not.
EA has also announced a rather nasty surprise for console fans, this one will be PC only.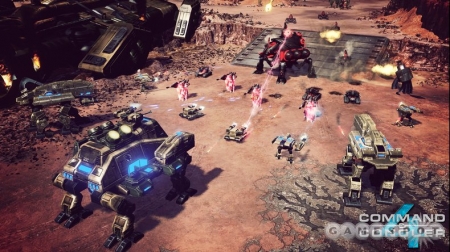 Check out more
here
The story of Command & Conquer 4 takes place after the events of the critically acclaimed Command & Conquer 3: Tiberium Wars. The year is 2062 and humanity is at the brink of extinction. With only six years left until the mysterious crystalline structure Tiberium renders the earth entirely uninhabitable, the two opposing factions - Global Defense Initiative (GDI) and the Brotherhood of Nod - inevitably find themselves in desperation for the same cause: to stop Tiberium from extinguishing mankind. The unthinkable becomes reality and Nod's enigmatic leader Kane takes off for GDI headquarters. What is Kane planning in the heart of his enemies' base? Command & Conquer 4 draws the epic conclusion to the beloved Tiberium universe, where fans will learn the fate of Earth, Nod, Tiberium, GDI and most importantly, Kane's motivations behind his decade-long plan.
Photo courtesy of
GameSpot.com
Related Tags