NVIDIA Tegra mobile devices whip Atom - supposedly
Three times more battery life with HD video.

Published Tue, Jun 2 2009 3:28 AM CDT
|
Updated Tue, Nov 3 2020 12:36 PM CST
During NVIDIA's upbeat press conference today, CEO Jen-Hsun Huang announced Tegra to the world and this time we actually saw working product, unlike last year.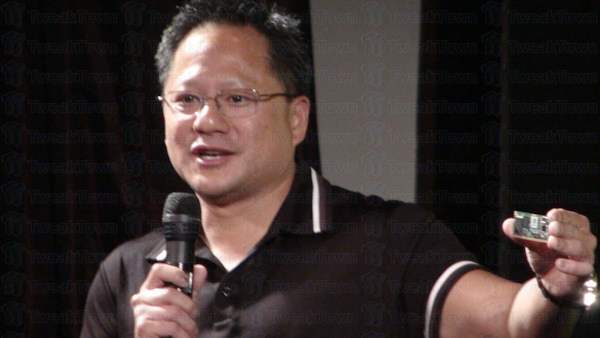 One slide (below) which got our interest was the comparison between Tegra, Atom and Snapdragon. If the numbers run by NVIDIA are correct, a Tegra mobile device which can go for as low as $99 USD will beat an Atom based product which starts quite a bit higher, in almost every aspect.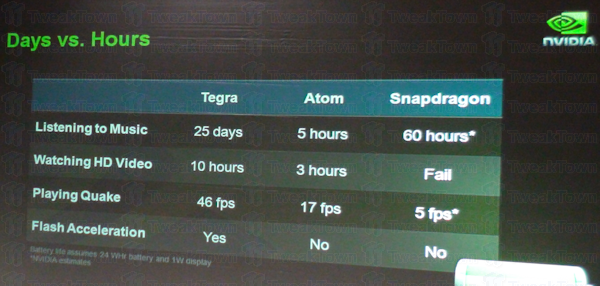 With the system on a chip (Tegra) running "under one watt", it can playback 10 hours of 720p HD video where Atom can only do 3 hours. Tegra can playback 25 days of music, while Atom can only do 5 hours and a Quake FPS of 46 FPS vs. 17 FPS. Tegra supports Windows CE, Windows Mobile and Google Android for netbooks, but we are unsure which was used to perform the tests.
Sure, these tests were performed by NVIDIA, but correct me if I am worry, should Intel be starting to worry at least a little? With 12 new HD mobile internet devices being launched today and presented to press, it presents a strong case for NVIDIA as the devices begin to hit the market late this year.
Related Tags