Asus EEEPC 1008HA Seashell available May 18th
for $429 of your hard earned dollars.
Published
0 minutes & 53 seconds read time
In more netbook news the Asus EEEPC 1008HA Seashell should hit the world market on the 18th. This thin offering from Asus has caught the attention of many websites over the last few days and seems to be one of the best out right now.
Of course you cannot have a premium product without a premium price. The Seashell will retail for about $429.
Specs should be an Atom N280 (1.66GHz) 1GB DDR2 800 RAM, 160GB HDD, 10.1-inch screen (1024x600) WiFi (b/g/n) Bluetooth 2.1+EDR and a couple of USB ports. Battery life is looking to be around 6 hours, not too bad for what you are getting.
Read more
here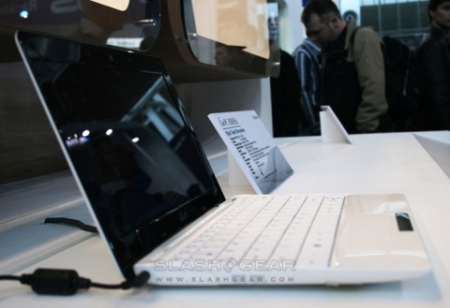 That gets you Intel's Atom N280 processor running at 1.66GHz, 1GB of RAM and a 160GB hard-drive, together with a 10.1-inch 1024 x 600 LED-backlit display. Connectivity includes WiFi b/g/n, Bluetooth 2.1+EDR and two USB 2.0 ports; there's also an ethernet port hidden behind a trick swivel-down cover. Since there's no room for a standard VGA port, ASUS fit a mini-VGA port instead; however, there's also a pull-out adapter hidden in the 1008HA's underbelly.

Other connections include audio in/out, a two-in-one card reader and the power socket to charge the integrated battery which, ASUS claim, is good for up to 6hrs runtime. You also get a 1.3-megapixel camera, microphone, and Windows XP Home.
Related Tags