CausticOne accelerates Raytracing by 200 times
Still needs CPU and GPU to work.
Published Thu, Mar 12 2009 10:37 AM CDT
|
Updated Tue, Nov 3 2020 12:37 PM CST
RayTracing is in the news again as a company named Caustic Graphics launches a product they claim can accelerate OpenGL Raytracing up to 200 times faster than current multi-core multi-CPU solutions.
The product called CausticOne is an ad-in card that runs off of a proprietary API and OpenGL version together they are called, imaginatively CausticRT (RT=Raytracing). Applications that are written with CausticRT support can benefit from the acceleration.
Although Intel has show Real-Time raytracing on high-end many-cored systems they have usually only showed primary ray acceleration.
Caustic claims they can accelerate not only the primary rays but the secondary (scatter) rays that make a scene more realistic; it is these scatter rays that are the major source of slowdowns in CPU based raytracing.
The CausticOne is not currently aimed at consumers but it designed to aid in the creation of more realistic CGI and animated films.
Read about it
here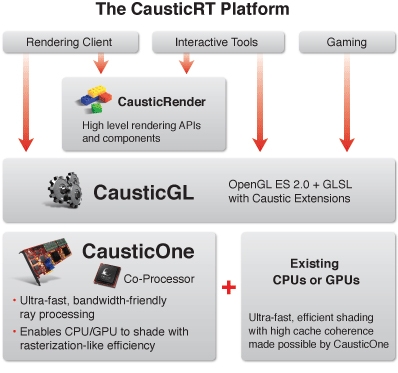 The card doesn't work on its own, as it needs a special API which is a custom version of OpenGL which oddly enough is called CausticGL (is it just us, or is there a pattern in the names here? Ed.) and Caustic Graphics seems to refer to the two together as CausticRT (RT for Raytracing). Any OpenGL Raytracing application with support for the CausticGL API should benefit hugely from the CausticOne card and at the moment it seems like Caustic Graphics is pitching the solution towards animated films and video, computer games of course, but not for consumers as yet, but instead as a solution for improving the quality of CGI video and just about any other high-end Raytracing application users such as the automotive industry.

The CausticOne isn't going to replace your CPU or GPU though, as both are needed for the final computational tasks such as shading which should also be speed up significantly, as the heavy Raytracing workload has been offloaded onto the CausticOne card. The card itself looks rather unusual, as it appears to be a full length card with a PCI Express x4 connector. Each of the processors on the card also seems to have a dedicated SO-DIMM (it's not clear if this is DDR2 or DDR3 memory) and there also seems to be a PCI Express bridge chip of some kind on the card. Finally therer are a couple of connectors at the top of the card that might suggest that multiple cards could be connected together to further enhance the Raytracing performance.
Related Tags