AMD's Phenom II benchmarks a'plenty
Couple of lucky lads get X4 940s early on.
Published Tue, Dec 23 2008 11:43 PM CST
|
Updated Tue, Nov 3 2020 12:37 PM CST
Some early benchmarking results of AMD's yet to be officially released Phenom II series processors have surfaced on the web which give a good indication of the expected performance characteristics.
A fellow by the name of coolice over at Malaysian tech site
BreakTheLimit
has somehow gotten hold of a Phenom II X4 940 processor and puts it through its paces at its stock speed of 3GHz in a wide array of tests, including Super Pi 1M and 32M, Cinebench R10, PiFast Multithreaded, WPrime 1.5, Aquamark and 3DMark06.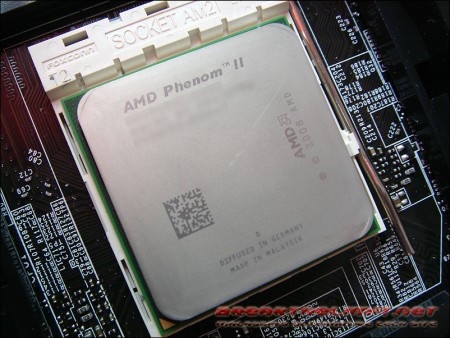 The platform used comprises MSI's DKA790GX Platinum motherboard, 2GB of Kingston DDR2 1066MHz memory and an ASUS Radeon HD 4870 TOP Edition graphics card.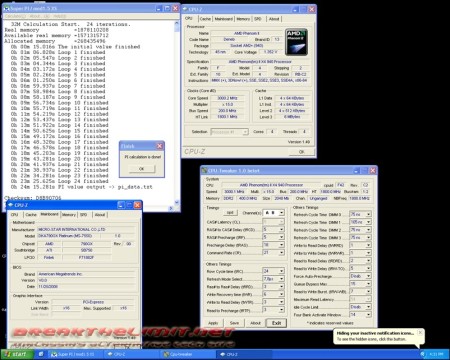 The results aren't all that crash hot; not when compared to the likes of what Intel has on offer. But it looks to be a significant leap forward for AMD nonetheless. You can view the rest of the results and screenshots
here
.
I should also mention that a fellow over at the HardOCP forums has mysteriously scored one of these Phenom II 940 series chips as well. He kindly shares his experiences with the chip along with a bunch of benchmark screenies at both stock and overclocked (3.85GHz) speeds.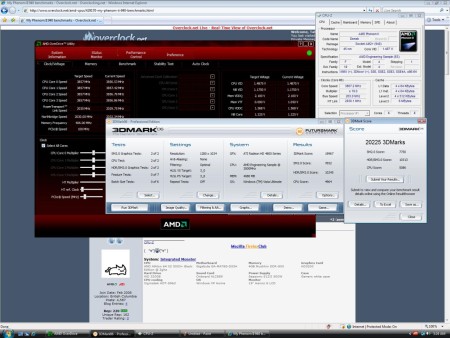 You can view the full thread
here
.
Sorry for making another thread, not sure if it is the right thing to do but anyways, here is what I have for a system to test things on.

Cooler -OCZ vendetta 2
CPU - Phenom II 940
Ram - 2x2gb Mushkin redline
mobo - MSI K9A2 plat
video - 2x 4870, 4x4850 (installed right now is 1x 4870)
H/D - WD5000AAKS
PSU - Corsair HX1000
O/S vista ultimate 64bit

I have super pi runs done now and will do some 3dmark 06 in a few min.
Related Tags