SanDisk Speeds up its SSDs
Enter ExtremeFFS.
Published Thu, Nov 6 2008 7:50 AM CST
|
Updated Tue, Nov 3 2020 12:37 PM CST
SSDs seem all the rage today everyone is talking about them. We hear how they are the future, how they are bad, and how ridiculously expensive they are!
After the news that MS is going to put optimizations for SSDs into Seven we find out that SanDisk is going to put in some optimizations right into the drives themselves.
This will show up as Extreme FFS (Flash File Management System) which is a page-based algorithm to speed up random reads and writes (up to 100 time for random writes according to SanDisk)
Read more
here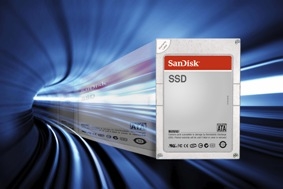 To maximize random write performance, SanDisk developed the ExtremeFFS flash file management system. This operates on a page-based algorithm, which means there is no fixed coupling between physical and logical location. When a sector of data is written, the SSD puts it where it is most convenient and efficient. The result is an improvement in random write performance - by up to 100 times - as well as in overall endurance.

ExtremeFFS incorporates a fully non-blocking architecture in which all of the NAND channels can behave independently, with some reading while others are writing and garbage collecting. Another key element of ExtremeFFS is usage-based content localization, which allows the advanced flash management system to "learn" user patterns and over time localize data to maximize the product's performance and endurance. "This feature might not show up in benchmarks, but we believe it is the right thing to do for end-users," Heye said.

Related Tags