Russian Scammers Cash In on the Gullible
Warning you have SpyWare! Now give me your money.
Published Wed, Nov 5 2008 7:23 AM CST
|
Updated Tue, Nov 3 2020 12:38 PM CST
How many times have we seen the pop-ups telling us that your system is infected? If you are smart and have good (and up to date) Mal-Ware protection probably not many.
But it seems that there are enough people out there that do not have protection (or common sense) and click on that frightening pop-up despite some glaring red flags.
FairFax Digital has an entertaining read about how these malicious pop-ups are netting some scammers over $150,000 dollars per week. Now that is a lot of gullible people.
Shake your head after reading
this
.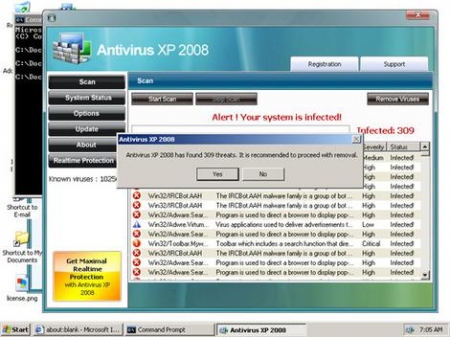 "For most people they might just be browsing the web and suddenly they don't know why this thing will pop up in their face, telling them they've got 309 infections on their computer, it will change their desktop wallpaper, change their screensaver to fake 'blue screens of death'," Stewart said.

"It goes to a lot of trouble to try and scare people into thinking they have a massive infection on their computer and they need to pay money to this software vendor to get it cleaned."

Stewart said the pop-ups keep re-appearing until the user buys the anti-virus program, which looks much like real security software. Once they do, another pop-up says the computer is being scanned and all problems are fixed, but "everything it just scanned for is fake so it didn't really do anything".

Related Tags