FIFA 13 PlayStation 3 Review
We think this is the greatest football game of this generation of consoles. Read on to find out why.
Published Oct 1, 2012 8:32 AM CDT
|
Updated Tue, Nov 3 2020 7:01 PM CST
Developer / Publisher: EA
5 minute read time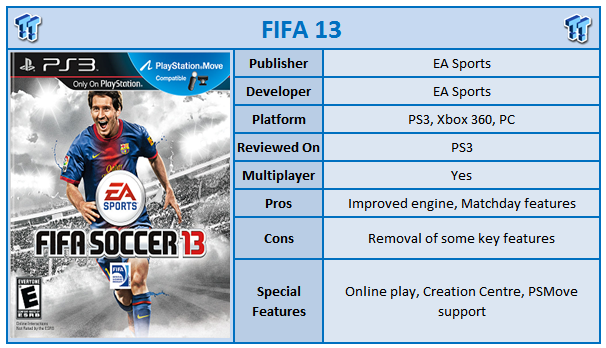 Last year's FIFA was close to perfection. Dan Rutter and his team at EA Sports had almost created the ultimate football game, however there was a few niggles to keep it from being called perfect. With this in mind the yearly war between Pro Evolution Soccer and FIFA begins again in earnest. Could Pro Evo come closer to the juggernaut that is FIFA, or would FIFA pull away and lead into the next generation as the leader? It hasn't been an easy road for FIFA this year. Pro Evolution Soccer 2013 is no doubt the most impressive version for a number of years and Konami went on the offensive, releasing the game before FIFA for the first time, but Dan Rutter and his team have corrected the niggles from last year's game and now FIFA is without equal. It is the greatest football game of this generation.
FIFA 13 makes some interesting changes to the game modes on offer. A regular exhibition match is now termed Match Day and can either be played in an online or offline format. Playing online does introduce limitations such as you can't have custom squads, but on the other hand it introduces some social networking elements to the game. As you win matches with your team in Match Day, the results are uploaded to the EA servers and your club either gets a boost from a win, or a drop from a loss. It's like a crowd sourced table of football teams.
There has also been an interesting change to the main career mode. Let's start with the puzzling decision to remove the combination Be a Pro/Manager mode. In FIFA 13 you cannot be a manager and also play as an individual pro player, the game now forces a decision upon you. In many ways this doesn't make sense. In the real-world, football player managers are very much part of the framework of modern football, and to take away a feature which is loved in the series, was always going to be a risk.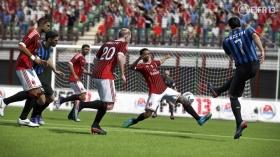 However, aside from this, the career mode has had some major improvements and these changes add even more challenge to the game. There is now zero doubt that FIFA is after Football Managers crown as a fully featured management simulation, and whilst they are miles away from SI's legendary sim, they are very much heading down that path. In FIFA 13 players will complain about wages midway through the season, head off to international duty (something 'borrowed' from the PES series of games) and in general give you more headaches. In the past it's been manage injuries, manage contracts and win matches. Now it's keep players happy 24/7 and the challenges are better than ever.
The transfer system has had somewhat of an overhaul as well. You will no longer be able to sign megastars into your team without guaranteeing first team football and they can see through your lies. Numerous times I had offered first team football to a player I wanted to sign and got the feedback 'I know you cannot offer me that, I am not signing'. This human element adds a level of realism to a FIFA game not seen yet and makes career mode all the more difficult to dominate. If you want a realistic football manager sim where you actually play the matches, FIFA 13 is your game.
Aside from this a lot of the changes are engine based and cosmetic. In the FIFA 12 review we gushed about the brand new impact engine even though it had a few niggles here and there. We can happily report that those niggles have been removed.
The impact engine in FIFA 13 is nothing short of sublime. Players move in a realistic fashion and when crunching tackles come in no longer go flying all over the place, but instead fall in a heap in a realistic fashion. Sometimes they even take a while to get up and rub their legs, or other times actually incur an injury. This is the kind of comments we used to make about PES during the PS2 days and it's clear as day that EA has finally perfected what Konami had done right in 2005. It's just a shame PES has somewhat gone off the rails since then.
Aside from this the actual movement of the ball and players has changed as well. No longer can you turn on a dime and burst past a player. Receiving a fast ball, the player will need to control the ball before even trying to move and just like in real life without control, the AI can easily scoop the ball away. There is a noticeable delay in players reacting to sharp movements and whilst delayed movement in games can be criticised, it just seems right in this game given the way real-world professional footballers react on the pitch.
One area which has not been given any love is the creation center where you can make custom teams and players. Thankfully EA has decided it was necessarily to allow FIFA 12 content to be compatible with 13 so any teams and players you made last year can be imported into the FIFA 13 game easily. EA is also not cutting access from FIFA 12 off. Instead as soon as you make a change to a pre-existing team or player, it is updated to the 13 format forcing you to upgrade.
You are rewarded for playing the game however with tokens now added as you complete tasks and these tokens allow you to unlock items such as old jerseys or boots for various famous teams. Also, whilst the game loads you can play some mini games to pass the time. Most of the time the game loads well before you finish these skill games which is one of the best additions to the game this year - teaching you how to play, whilst keeping you interested during load screens.
[img]2[/img]
It goes without saying that with the improved game engine comes improved graphics and animations. Players no longer morph into each other during challenges and during slow motion replays you can tell a lot of work has been put into this area. Player's ankles and legs react accordingly to tackles and also the days of players flying up in the air in a comical fashion are over. As per usual the big names within the game are easily identified just by looking at the character on the ball, whilst those who have not had the superstar treatment still look good.
Commentary is again provided by Martin Tyler, but there is also updates from other matches within the same league delivered during the commentary giving an even better broadcast style experience. And yet again the people who concoct the soundtrack have smashed it out of the park. Each year not only is the game anticipated by many, but the soundtrack has become just as much a cultural phenomenon as the game itself.
If FIFA 13 is to be the last FIFA game released during this generation before the next consoles are announced (expected to be late next year), then it is a fitting send off to the longest generation ever. In many ways FIFA as a series shows that a longer generation may not be such a bad thing. EA have had many years to perfect their engine and gameplay on the current systems and it shows. FIFA 13 is hands down the best football game of this generation, and quite possibly of the last decade. If you are a football fan you simply must buy FIFA 13.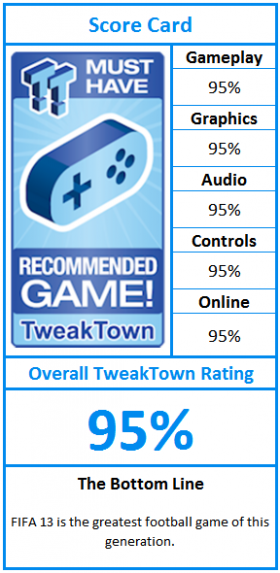 PRICING: You can find products similar to this one for sale below.

United States: Find other tech and computer products like this over at Amazon.com

United Kingdom: Find other tech and computer products like this over at Amazon.co.uk

Australia: Find other tech and computer products like this over at Amazon.com.au

Canada: Find other tech and computer products like this over at Amazon.ca

Deutschland: Finde andere Technik- und Computerprodukte wie dieses auf Amazon.de