Grand Slam Tennis Wii Review
The Wii Motion Plus and EA bring a true competitor to the Virtua Tennis throne to the table.
Published Jul 10, 2009 9:11 AM CDT
|
Updated Tue, Nov 3 2020 7:03 PM CST
3 minutes & 12 seconds read time
For years and years Virtua Tennis has dominated the tennis virtual court, so much so that no other publisher has put its foot into the puddle of tennis games for many years. However, with the popularity of tennis soaring, it was only a matter of time before the biggest sports brand of them all, EA Sports decided to get into the game. The timing is perfect because Nintendo has just released the Wii Motion Plus and this peripheral has turned Grand Slam Tennis from a good game, to one of the best tennis games ever made and a true challenge to the Virtua Tennis crown.
The game comprises of a number of modes, but we can't help but feel a little disappointed here. The main crux of the game is the Grand Slam mode where you play through all four slams and a few practice matches in between. There are a few mini games and side games to play to help improve your character, but no where near the quirkiness or fun that Virtua Tennis offers in this area. Once you win the slam, the game tasks you to defend it which although is fun, shows little originality the developers had in this area.
You can customise your character with new clothes and one of the more unique aspects of the title is 'winning' other players strengths. For instance, if you defeat Sharapova, you gain her powerful backhand for your character so you can build a hybrid character of all the world's best players by the time you are finished with the game.
A nice quirk, especially when considering EA Sports Active recently shipped the calories counter. You can set the game up to count your calories and report on that in a calendar based format. It seems that every man and his dog wants to have a fitness thing on the Wii and GST is no exception. However, where this game really shines is Wii Motion Plus. This peripheral from Nintendo will quickly become a must have because without it GST really is Wii Sports Tennis with a brand new, albeit impressive coat of paint.
Having played tennis in the past at quite a high level, I was sceptical that a piece of hardware could replicate the true feeling and nature of holding a tennis racquet, but my scepticism was unwarranted. All the shots I used to hit on the court I can now hit in the game; top spin, slice, smash etc. - If you curl your arm over the ball it adds top spin (as it does in real life) or chopping the Wii Mote will slice the ball and perhaps perform a drop shot.
This does come at a cost. GST with Wii Motion Plus is hard; so hard that within the first hour or so you are unlikely to beat an AI opponent, but if you stick with it you will find it one of the most amazing tennis games ever made. Whenever you miss a shot you instantly know why which is something you just didn't get from a console based controller. The AI never feels cheap and is a constant challenge. The 'back and forth' in this game is truly amazing and some points go on forever.
The smart thing that EA did with GST is the graphical style. Using a cartoon style really works on the Wii and despite the Wii not being a HD based console, GST looks just fine. The parody style graphics of each of the characters adds to the charm of the game. Having a cartoon Nadal versus a cartoon Federer gives it a much more fun and family feel. Characters featured include the aforementioned Nadal, Federer, Williams, Sharapova (complete with her grunt), Andy Murray, Pat Cash and John McEnroe, just to name a few and each have their own weakness and strengths.
The game really shines in multiplayer. If you have a friend who is not so into games, the game can be played with one user playing with Wii Motion Plus and the other not. Obviously this increases the difficulty level significantly for the player with WMP, but it's a nice leveller for the non-game player. There is also online multiplayer through EA Online, but to have a ranked game you do have to register the game.
Grand Slam Tennis is the best new challenger to the Virtua Tennis crown in a number of years. The cartoon characters work well with the game and the official licences from the four slams and players increases the authenticity. It's fun with friends but to truly experience this game you need the Wii Motion Plus which we can't recommend enough.
You can currently pick up Grand Slam Tennis for the Wii over at Newegg
for 46.99 U.S. Dollars
which includes shipping.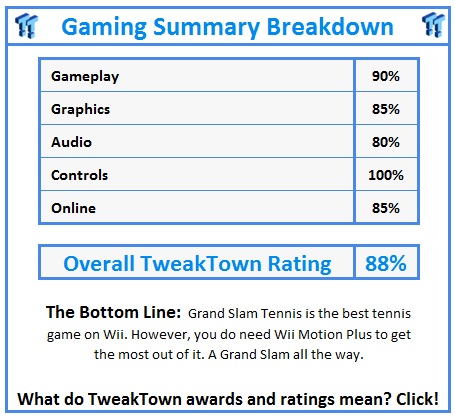 PRICING: You can find products similar to this one for sale below.

United States: Find other tech and computer products like this over at Amazon.com

United Kingdom: Find other tech and computer products like this over at Amazon.co.uk

Australia: Find other tech and computer products like this over at Amazon.com.au

Canada: Find other tech and computer products like this over at Amazon.ca

Deutschland: Finde andere Technik- und Computerprodukte wie dieses auf Amazon.de