QNAP, Inc. has sprung another surprise on the enterprise storage marketplace with the announcement of the new TVS-ECx80U-SAS-RP unified NAS-SAS storage solution. This new system bridges the gap between all three different types of drives: speedy all-SSD storage, large capacity SATA drives and cost-effective SAS HDD systems.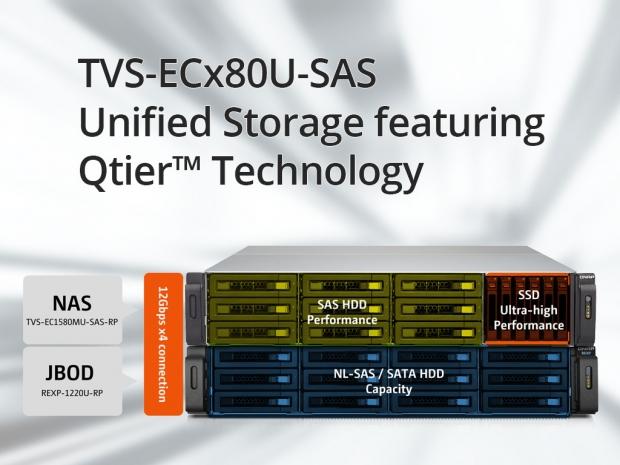 The new TVS-ECx80U-SAS-RP series marries high-performance 12 Gbps SAS drives with built-in ultra-high performance 256 GB SSD caching. Powered by QNAP's new QTS 4.2 management software along with the new Qtier automated data-tiering technology, the system keeps frequently accessed data readily accessible and infrequently accessed data close at hand in less-costly HDD storage, significantly improving the overall performance while reducing data warehousing costs.
TVS-ECx80U-SAS-RP Hardware Overview
With up to 24 HDDs, 12Gbps SAS performance, and 256GB of SSD caching, the new TVS-ECx80U-SAS-RP delivers lightning-fast frequently accessed files from the SSD drives, and balances less-accessed files in SAS and SATA hard drives. From a cost perspective, this is important as SSDs are still in the $0.30/GB cost band, while SAS and SATA drives are in the $0.04 ~ $0.06/GB range. The TVS-ECx80U-SAS-RP series also features powerful quad-core Intel Xeon processor mated to 16GB of DDR3 RAM (expandable to 32GB) in a 2U ~ 4U chassis (model dependent) with a redundant power supply for enhanced fault-tolerance.
The introduction of 12Gbps SAS architecture boosts performance 37% over previous 6Gbps hardware. All models ship with 4 Gigabit LAN ports and feature optional 10GbE LAN connectivity. Up to 8 QNAP REXP Expansion Chassis can also be connected for additional storage.
QNAP Qtier Technology Overview
As impressive as the hardware specs of the TVS-ECx80U-SAS-RP are, it's only the "fast" part of the story. The "furious" element comes from the ultra-intelligent Qtier technology that dynamically analyzes and balances data into 3 tiers and is part of the new QTS 4.2 management software update. "Hot" frequently accessed data is kept in the SSD drives for fastest delivery and less-frequently used "warm" data in high-performance SAS HDDs, and infrequently used "cold" data on the most cost-effective SATA drives.
Qtier uses a B-tree-update transaction algorithm and a 4MB data block "weighting" system to determine which data is more or less frequently accessed and schedules that data for migration up or down the storage hierarchy as appropriate. This combination of data management with ultra-fast SSD caching is proven to accelerate system performance with lower total cost of ownership. Along with Qtier technology, the new QTS 4.2 introduces volume & LUN Snapshots which allow you to record the state of your storage at any time. Now you can easily create, manage and revert to Snapshots on your QNAP NAS and stay worry free from data loss.
TVS-ECx80U-SAS-RP Series Available models
TVS-EC2480U-SAS-RP-16G-US (24 2.5" or 3.5" drives)

TVS-EC1680U-SAS-RP-16G-US (16 2.5" or 3.5" drives)

TVS-EC1580MU-SAS-16G-US (9 2.5" or 3.5" drives, 6 2.5" SSDs)

TVS-EC1280U-SAS-RP-16G-US (12 2.5" or 3.5" drives)
Last updated: Apr 7, 2020 at 12:10 pm CDT