AOC, a worldwide leader in monitor display technology, today announces their 24" and 27" FreeSync gaming monitors (G2460PF and G2770PF) that eliminate tearing, stuttering and input lag. The monitors let gamers enjoy clear, detailed imagery with Full HD resolution plus sharper action sequences with an ultra-fast 1ms response time and impressive 144Hz refresh rate. Together, these features diminish distractions such as blurring and ghosting that can mean the difference between victory and defeat. The G2460PF and G2770PF are available today at Newegg for $269 and $359 respectively.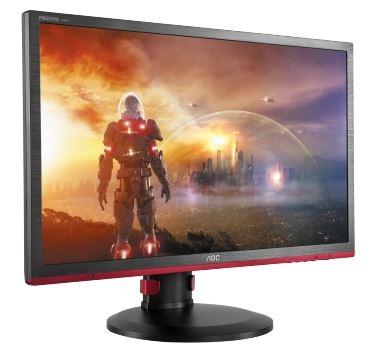 Designed for serious gamers, the displays deliver an extra smooth playing experience with FreeSync which seamlessly synchronizes the monitor and GPU refresh rates to eliminate tearing, stuttering and input lag. Whether you're racing around the track or stalking enemies in a first-person shooter, the Full HD resolution delivers sharp, true-to-life imagery.
Gamers will enjoy a 144Hz frame rate, twice the frame rate of other monitors, which shows your enemy's movement in ultra-smooth motion. A pixel response time of 1 ms means speed without the smear for an enhanced gaming experience. Fast-moving action and dramatic transitions will be rendered smoothly without the effects of ghosting.
Both the G2460PF and G2770PF displays use TN panels and offer AOC Flicker Free Technology's hybrid solution that regulates brightness without flickering, ensuring comfortable viewing. Both monitors come with four-way adjustable stands (tilt, height, swivel, and orientation), plus VESA mounting provisions and a Kensington Security Lock. The built-in active and passive USB 2.0 hub provides easy-access ports for convenient connection of USB devices. Multimedia-Ready with HDMI Input enables gamers to connect a secondary device to their monitor with up to 60 Hz. Both monitors also come equipped with Display Port, Dual Link DVI and integrated speakers that offer quality audio without the hassle of connecting external speakers.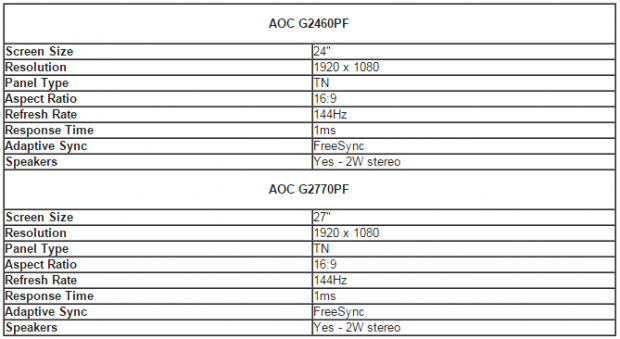 Last updated: Apr 7, 2020 at 12:10 pm CDT