The World Baseball Softball Confederation ("WBSC") today announced that Tokyo-based gaming giant GungHo Online Entertainment, Inc. ("GungHo") has become a gold sponsor, the top category, of the 2015 WBSC Premier12 that will be staged in Japan and Taiwan from 8-21 November and will feature the men's National Teams from the top twelve nations in the WBSC Baseball World Rankings.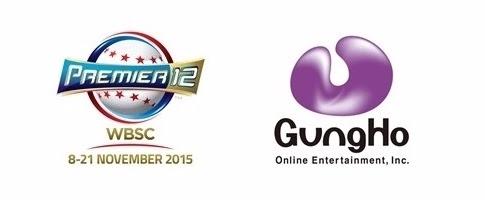 As a top sponsor, GungHo, makers of such popular games as "Puzzle & Dragons", will have a featured presence and be on signage across all competition venues and all media backdrops for Premier12, the top international baseball event on the 2015 calendar.
"WBSC is delighted to partner with leaders in online entertainment like GungHo," said WBSC President Riccardo Fraccari. "This is a natural fit for WBSC and our newest flagship event Premier12, as the sport of baseball entertains hundreds of millions of fans every year with action on the field. This partnership with GungHo on Premier12 promises to create a very special synergy dedicated to the fan and game-experience."
Said Kazuki Morishita, GungHo President and CEO: "GungHo is committed to launching engaging new products and content, and that's why we are thrilled to be partnering with WBSC on Premier12. This exciting new global baseball platform, WBSC Premier12, will be viewed and enjoyed by millions of fans of all ages around the world, and GungHo is confident that through this partnership on WBSC Premier12 we will continue to expand the range of new and loyal users who trust in GungHo to continue delivering innovative, new gaming products and experiences."
The WBSC Premier12 global baseball battle will open with top-ranked Japan and world No. 8 South Korea on 8 November at Japan's 40,000-seat Sapporo Dome.
Last updated: Apr 7, 2020 at 12:10 pm CDT