PNY Technologies, Inc., world renowned manufacturer of USB and Memory products, has brought forward a unique and fun way to store your files, images, movies and music on the go. The HP x778w USB 3.0 Flash Drive features a cute and fun way to transfer files. Lightweight and compact, this drive stores up to 64GB of your favorite documents, images, music, movies and more.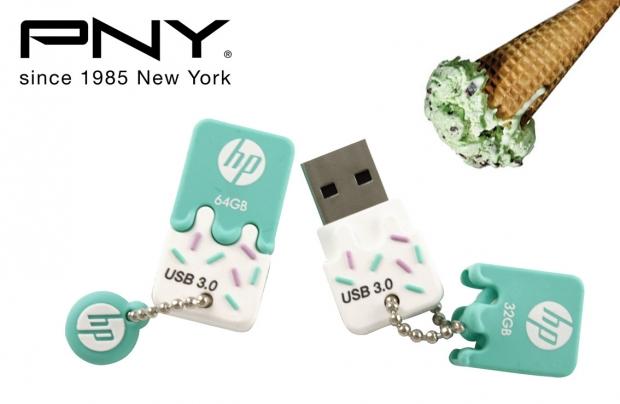 This ice-cream inspired USB flash drive is made up of durable rubber housing. The cap can be conveniently attached to the end of the drive and remains secure while the drive is in use. For added portability, the drive includes the built-in strap hole design, so that the drive can be attached to your wallet, purse or backpack. The HP x778w is a thumb-sized USB flash drive that weighs 8.1 g and measures at L 32.5mm x W 17.5mm x H 9.5mm. The unique design resembles a partially melted ice cream layered with sprinkles below it - giving you a fun way to store your files.
The HP x778w features USB 3.0, which offers fast speed transfer of files between your computer and the drive. It performs an impressive read and write capacity of up to 90/30 MB/sec (64GB). It is also fully compatible with all versions and models of laptops and desktops available in the market today.
The HP x778w is available in a variety of storage capacities, ranging from 8GB to 64GB. It is compatible with the latest versions of Windows operating systems, including Vista, Windows 7, 8 and also works with Mac OS: 10.3 and above; and comes with a 2-year warranty from the date of purchase..
Whether you own it as a personal accessory or gift it to your friends and family, the HP x778w is the ideal gadget to own.
Last updated: Apr 7, 2020 at 12:09 pm CDT