Aerocool Advanced Technologies, one of world's leading manufacturers of excellent gaming PC gear, announces a brand new cube chassis with ATX form factor support and compact dimensions. The GT-RS comes with a unique interior design where mainboard with the form factors ATX, micro-ATX and mini-ATX are mounted upside-down on the left side of the chassis. The mounting locations of hard drives and optical drives have been moved to a separate chamber, in order to achieve improved airflow.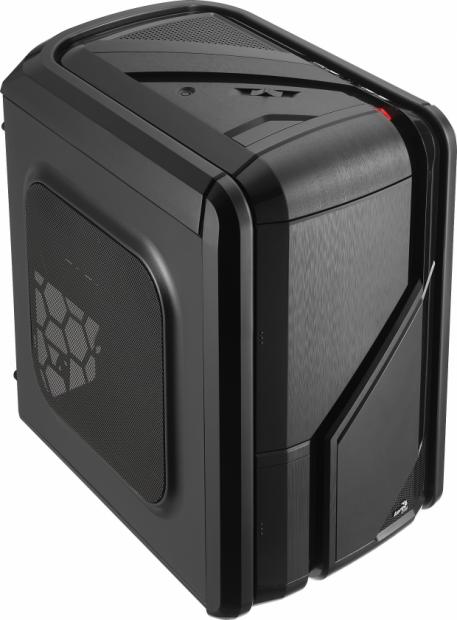 Aerocool successfully combined a futuristic design with a unique interior layout. The GT-RS chassis has similar dimensions as the popular Aerocool DS Cube but uses the space differently, which allows mounting of ATX motherboards. Large VGA cards with a total length of 300 millimeters and CPU coolers with 121 millimeters height are supported as well. Users with water-cooling systems are able to mount single or dual radiators in the GT-RS.
Another advantage of the unique interior layout is that it improves the airflow, due to the fact that components such as PSU, ODD and HDD bays have been moved to a separate chamber. One 120 mm case fan is pre-installed in the front to allow sufficient airflow. The supplied case fan spins with 1.200 RPM at 22,5 dBA. Users have the option to slow it down thanks to a built-in fan controller, which is implemented into the top panel of the GT-RS. The switch reduces the voltage to 5 Volts, which means that the fan operates even more silently at 500 RPM. Yet another feature of the switch in the top panel is the option to switch the fan LED color from red to blue.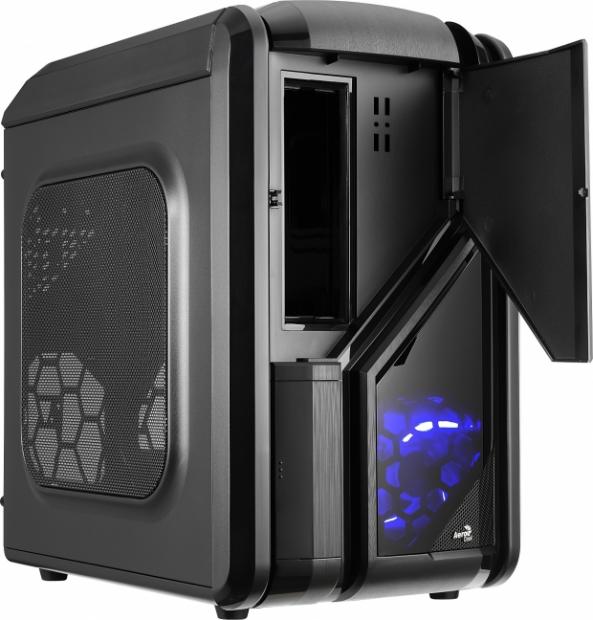 One 5,25 inch bay for optical drives and one 3,5 inch bay are located on the front side of the second chamber and hidden behind a door to keep a tidy and cool front panel design. Two 2,5 inch drives (SSD/HDD) and two 3,5 inch drives can be easily mounted as well. It is possible to use the external 3,5 inch bay to mount another 3,5 inch HDD, if required. The GT-RS chassis offers space for up to three additional case fans, which allows individual airflow optimization. Aerocool furthermore offers up-top-date connectivity with the integrated two USB 3.0 and two USB 2.0 connectors, one mic and one headphone connector, which are located on top of the GT-RS.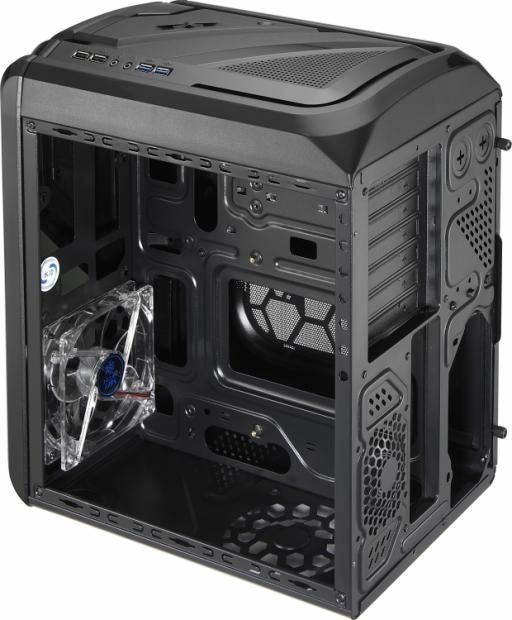 Aerocool's GT-RS Cube chassis will be available at etailers and retails starting this week. Suggested manufacturers price is set at 63,90 EUR in Europe and 70,00 $USD in USA (excl. Taxes).
Last updated: Apr 7, 2020 at 12:09 pm CDT