Taipei, Taiwan, 21st February 2012 - GIGABYTE, the world's leading premium gaming hardware manufacture, is pleased to introduce the latest super gaming graphics card, GV-NTITAN-6GD-B. Built with the highly anticipated GeForce GTX TITAN GPU, GV-NTITAN-6GD-B utilizes the latest 28nm fabrication process, features 6GB GDDR5 memory and adapts 2688 CUDA cores. GIGABYTE GV-NTITAN-6GD-B not only supported Microsoft DirectX 11.1 and PCI-Express 3.0 architecture, but also supporting NVIDIA 3D Vision Surround, 3D Vision, PhysX, and 3-way SLI. Therefore, GV-NTITAN-6GD-B can guarantee gamers an ultimate gaming and Multi-Screen 3D visual experience. GV-NTITAN-6GD-B is equipped with the innovative GPU Boost 2.0 technology, including Over Voltage control, Prioritize GPU Temperature and Display Clocking. With the use of GIGABYTE OC GURU II software, GV-NTITAN-6GD-B can increase the overclocking capacity by unlocking the hardware limitation and brings hardcore gamers an ultimate gaming performance experience. For celebrating the launch of GV-NTITAN-6GD-B, GIGABYTE packed a high-end gaming grade mouse pad and an exquisite gift only for the GTX TITAN owners!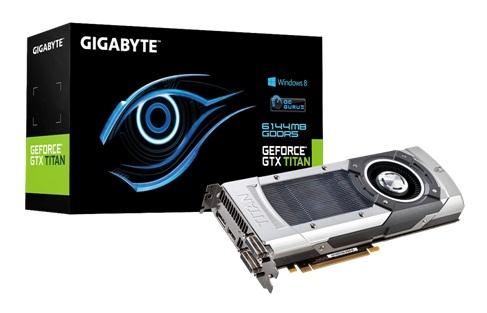 OC GURU II, liberates the overclocking limitation
According to the latest NVIDIA technology "GPU BOOST 2.0", GV-NTITAN-6GD-B provides gamers an unlimited overclocking capability by using GIGABYTE OC GURU II to adjust maximum core voltage and synchronize the GPU temperature and power consumption. These main features not only increase the overclocking ability but also deliver an extremely performance to make gamers enjoy the amazing gaming experience.
6GB GDDR5 High Capacity Memory
Built-in 6GB GDDR5 high capacity memory and 384-bits memory bus bandwidth, GV-NTITAN-6GD-B speeds up the communication between graphics card and the hardware platform and also brings up an amazing performance. With the feature, it can fulfill the multi-screen and high definition application for gamer to satisfy a real gaming spirits.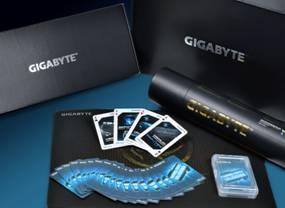 Fastest and Multi-Function Single GPU Architecture
Except single GPU architecture, supercomputing capacity brings the lower power consumption and higher performance, GV-NTITAN-6GD-B also supports NVIDIA 3D Visionâ"¢ Surround. Users can experience broader, richer gaming environments with the latest technological advancements. Bring games to life with NVIDIA Surround multi-monitor gaming on a single card, supercharged PhysX and 3D Vision, plus the unbeatable power of SLI.
Accessories for Gamers
GIGABYTE is committed to provide the best gaming experience and environment for gamers. The GV-NTITAN-6GD-B goes with not only the cards and adapters, but also with the best gifts for gamers. The extreme accuracy gaming mouse pad is made with high density polyester surface, which can enhances tracking precision. Gamers will never fluff during serious games. Large size and natural rubber base ensures stable grip even on high-speed movement.
For more details of GIGABYTE GV-NTITAN-6GD-B, please visit the GIGABYTE VGA website at:
http://www.gigabyte.com/products/main.aspx?s=43
Facebook: https://www.facebook.com/GIGABYTE.VGA
Last updated: Apr 7, 2020 at 12:07 pm CDT