VIA Technologies, Inc, a leading innovator of power efficient computing platforms, today announced the VIA ARTiGO A1200 slim PC kit, featuring a VIA Eden™ X2 dual core processor. The fanless, ultra-compact VIA ARTiGO A1200 is suitable for a myriad of applications in the home or office, including home server, home automation, hotel management, media streaming, digital signage and surveillance applications.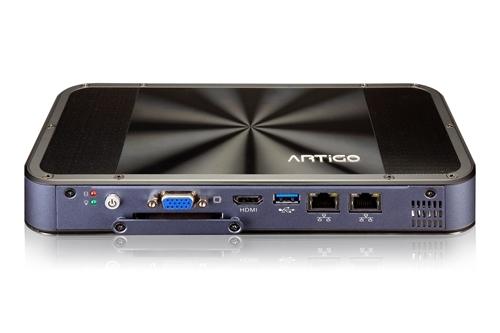 The latest in the VIA ARTiGO series, the VIA ARTiGO A1200 delivers an ultra-low profile design a mere 3cm high, and utilizes the innovative industrial buckled-blade thermal fin design to dispatch system heat and provide reliable, stable performance in temperatures ranging from 0ºC~45ºC. The VIA ARTiGO A1200 can fit easily into any environment, whether it is behind a monitor or on the wall with a 10 x 10 cm VESA mount or placed alongside other home media devices.
"VIA has long been a leader in driving innovation for low power compact computing, especially with our ARTiGO series," said Epan Wu, Head of the VIA Embedded Platform Division, VIA Technologies, Inc. "By moving to the Em-ITX form factor we are able to deliver a slim line, fanless system, creating a completely silent computing experience."
VIA ARTiGO A1200
The ultra thin 24.3cm x 12.4cm x 3.0cm VIA ARTiGO A1200 is powered by a 1.0GHz VIA Eden X2 dual core processor for a fanless power efficient system with support for up to 4GB of DDR3 RAM. Combined with the highly integrated all-in-one VIA VX900 media system processor (MSP), the VIA ARTiGO A1200 provides playback of the most demanding HD video formats, including MPEG-2, DivX, WMV9, VC1 and H.264 for a breathtaking viewing experience at screen resolutions up to 1080p.
The unique dual-sided I/O coastline interface includes one HDMI and one VGA display port, two high-speed GigaLAN Ethernet ports, four USB 2.0 ports, one CFast socket, two audio jacks (Mic-in and Line-out), 12V DC-in power and an optional USB 3.0 host port.
For more information about the VIA ARTiGO A1200 please visit:
http://www.viaembedded.com/en/products/minipcs/productDetail.jsp?productLine=4&id=1850&tabs=1
Last updated: Apr 7, 2020 at 12:06 pm CDT