Taipei, Taiwan (5 April, 2012) - ASUS today announced that the much anticipated PadFone™ will be available for pre-sale in Taiwan from tomorrow, Friday April 6, 2012. The official launch event was opened with an introduction by ASUS Chairman Jonney Shih and a detailed product presentation by ASUS CEO Jerry Shen.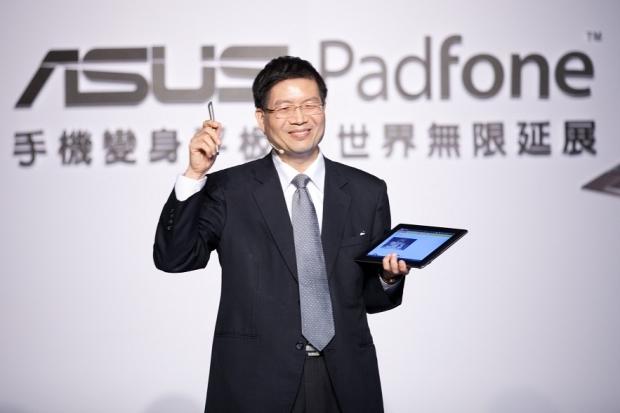 "I am very excited to deliver the ASUS PadFone into the hands of our customers. It is an ultra-savvy intelligent device that combines the function of a phone, a pad, as well as a notebook. It was built to offer users an unrivalled level of performance, customization and choice in how they connect with their digital world. Welcome to the future," said Jerry Shen, ASUS CEO. "I would also like to take this opportunity to extend my appreciation to our local partners," Mr. Shen added as he introduced Chuanghwa Telecom Chairman Shyue-Ching Lu (呂學錦) and Senao International President Paul Lin (林保雍) to join him on stage.
Customers can make their purchase at all participating Chunghwa Telecom and Senao stores throughout Taiwan starting from April 20th while pre-order begins tomorrow. Taiwan will be the first market to enjoy the newest ubiquitous cloud computing experience created by ASUS, with Singapore, Hong Kong, Germany and more European countries to follow shortly.
The ASUS PadFone is an incredible 4.3" smartphone featuring a Super AMOLED qHD display, the latest Qualcomm® Snapdragon™ S4 dual core 1.5GHz processor, an ultra-sharp 8-megapixel digital camera with Fuji image processor, F/2.2 aperture, and a 5-element lens all wrapped in an exquisite design that is optimized for Google's Android 4.0 operating system. When placed inside the optional PadFone Station, it transforms into a 10.1" tablet with up to *63 hours of extended talk time. The PadFone offers unmatched versatility via ASUS' proprietary DynamicDisplay technology which allows seamless transition between the PadFone and PadFone Station display screens. In addition, the PadFone Station offers an optional keyboard dock that essentially turns the PadFone into an ultraportable computing device, with an extended talk time of up to 102 hours*. The PadFone also comes with the option of a PadFone Stylus Headset which is a Bluetooth stylus pen that transforms into a headset for picking up calls easily.
PadFone owners will also be receiving 32GB of ASUS WebStorage for three years and utilize ASUS' cloud service to optimize their ubiquitous cloud computing experience. This latest ASUS innovation comes preinstalled with ASUS' exclusive SuperNote application - a versatile note taking app that allows users to take notes and information through a variety of options, including the keyboard, finger input, photo and video capture or audio notes.
Last updated: Apr 7, 2020 at 12:06 pm CDT