KINGMAX, the world's leading memory manufacturer, has recently launched its ultra speed SDXC Pro/SDXC ProMax memory cards. These two memory cards adhere to the latest SD 3.0 standard and boast a read speed up to 55 MB/s and a write speed up to 30 MB/s; a technological breakthrough from the conventional Class 10 specification. The 64 GB SDXC ProMax series offer enhanced reliability and faster transferring speed. Such specification ensures high quality images during high-speed continuous shooting and is the most suitable memory card for HD still images, high-speed motion as well as Full HD 1080P videos.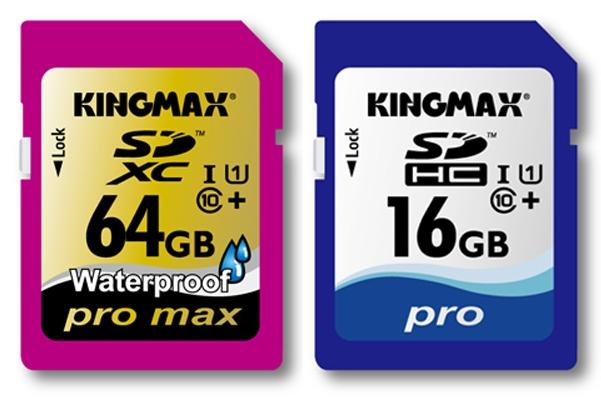 The increasing popularity of digital cameras meant more emphasis is placed on high-resolution pictures, non-stopping continuous shooting and easy photo / videos browsing; therefore, the demand for memory card no longer confines to only high capacity, it has also extended to superior storage performance. KINGMAX, a keen observer of market trends, has once again surpassed competitors by releasing its industry-leading SDXC Pro/ SDXC ProMax memory cards. With maximum twice or triple as fast write speed than the previous Class 10 memory cards, the new SDXC Pro is equipped with a write speed up to 20 MB/s and the SDXC ProMax exhibits write speed up to 30 MB/s. Such improve in performance fulfills DSLRs' need for high-speed storage, and significantly reduces the waiting time of file transfer between memory cards and computers.
Other than the improved transferring speed, SDXC ProMax also comes with the mega capacity of 64 GB. The adaptation to the latest exFAT format allows these memory cards to break from the limitation of 4 GB in one single file; enabling the storage of 14,560 1000 megapixel pictures and a playtime of MP3 files over 1,075 hours as well as HD video recording up to 512 minutes. Insufficient storage space created by massive files or failure to capture a beautiful moment due to lack of storage will no longer be of any concern.
What is worth noting is that KINGMAX also introduced the water-proof counterparts to the SDXC Pro and ProMax ultra speed memory cards. Utilizing KINGMAX's exclusive water and dust proof PIPTM packaging technology, the water-proof product line offers a full range of capacities from 8 GB to 64 GB. The SDXC Pro and ProMax are fully compatible with Windows 7, XP, or Vista, and also support CPRM(Content Protection for Recordable Media), last but not least, they are packed with ECC and wear leveling functions.
SDXC Pro and ProMax comply with multinational standards such as RoHS, CE, FCC and compatibility with major OS is guaranteed. KINGMAX is proud to announce all of its products are subjected to the most stringent quality control; rigorous testing is conducted to ensure the highest quality. All KINGMAX products come with warranty to provide 100% satisfaction guarantee to customers.
Last updated: Apr 7, 2020 at 12:06 pm CDT