for Maximum Quad-Channel Memory Performance
• HyperX Quad-Channel Memory in Kits of Four and Eight Modules up to 32GB
• Frequencies up to 2400MHz Allow Fast Performance
• Intel XMP-Certified for Sandy Bridge-E Processors, X79 Express Chipset
Hsinchu, Taiwan - November 15, 2011 - Kingston, the independent world leader in memory products, today announced a range of HyperX Genesis memory in 8GB, 16GB and 32GB kits to support the new Intel Sandy Bridge-E X79 quad-channel processors and X79 Express-based motherboards. Kingston HyperX Genesis is the perfect solution for enthusiasts who require 4x raw performance increases afforded by quad channel over single channel solutions.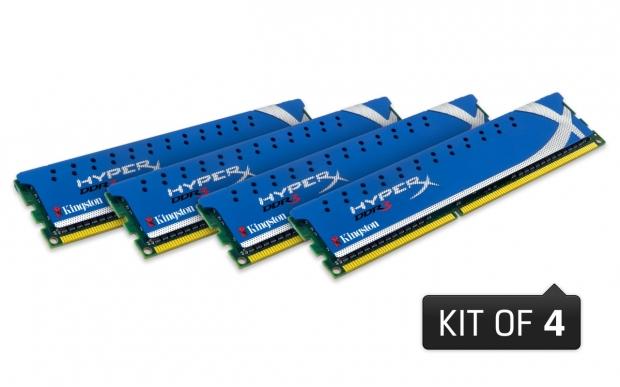 For extreme users who require both the fastest memory and largest capacity, Kingston's 2400MHz and 2133MHz will soon be available in both 8GB and 16GB kits of four modules. Other HyperX Genesis memory for X79 systems include 1866MHz and 1600MHz frequencies in kits of four and eight, with capacities ranging from 8GB to 32GB. All of Kingston's HyperX kits have achieved Intel XMP certification and are compatible with the latest X79 motherboards from vendors such as Asus, GIGABYTE, MSI and ASRock.
"Our latest HyperX offerings are specifically made to maximize performance in Intel's new Core i7-3960X or 3930K processors with quad-channel memory support," said Ann Bai, DRAM Memory Sales Director, APAC Region, Kingston. "HyperX Genesis for the X79 platform will scale new overclocking heights for extreme gamers, benchmarkers, content creators and enthusiasts."
Kingston HyperX memory is backed by a lifetime warranty and free technical support. For more information, please visit http://www.kingston.com/asia/hyperx/default.asp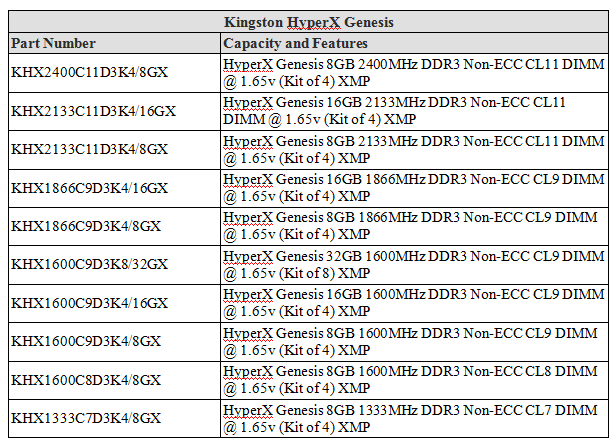 Kingston can be found on:
Blog: http://www.kingston-blog.com/en
Facebook: http://www.facebook.com/KingstonBlogFansClub.en
Twitter: http://twitter.com/KingstonFEPR
Youtube: http://www.youtube.com/user/KingstonAPAC
About Kingston Technology Company, Inc.
Kingston Technology Company, Inc. is the world's largest independent manufacturer of memory products. Kingston designs, manufactures and distributes memory products for desktops, laptops, servers, printers, and Flash memory products for PDAs, mobile phones, digital cameras, and MP3 players. Through its global network of subsidiaries and affiliates, Kingston has manufacturing facilities in California, Taiwan, China, and sales representatives in the United States, Taiwan, China, India, Australia, Vietnam, Europe, Russia, Ukraine, Turkey, and Latin America. For more information, please visit www.kingston.com/asia.
Last updated: Apr 7, 2020 at 12:05 pm CDT