Show us your BitFenix case and win a full set of award-winning Alchemy Multisleeved Cables
(BitFenix Design Lab, September 9, 2011) - Today, BitFenix is pleased to announce a very special contest for BitFenix around the world. In the BitFenix Case Video Contest, fans can show us their BitFenix case for a chance to win a sweet set of award-winning Alchemy Multisleeved Cables for their rig!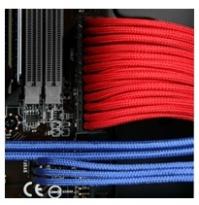 Entering the contest is easy. From now until September 30, 2011, users can make a short 60 second video introducing their gaming rig featuring any BitFenix chassis, upload it to YouTube, and send us the link.
Then, once all the submissions are in, our panel of judges will pick the best video and the winner will receive a full set of Alchemy Multisleeved Cables to spruce up their rig even further - a prize package valued at $100!
"Our Alchemy Multisleeved Cables have been winning numerous awards worldwide for their unmatched quality, look and selection, and during this contest, one lucky winner will be able to deck out their build with a complete set. Game on!" says David Jarlestedt, BitFenix Product Manager.
For the full list of contest rules and how to enter, visit the official BitFenix website at http://www.bitfenix.com.
For more information on Alchemy Multisleeved Cables, go here: http://www.bitfenix.com/global/en/products/premium-modding/alchemy-cables/
About BitFenix
BitFenix is the result of the collaboration of several veterans in both the technology and gaming industries. From the same minds behind some of technology's most venerable products, BitFenix creates hardware and peripherals that grant the user the utmost control, strength, and performance to complete their computing tasks. Combining a deep understanding of gaming and other high-demand computing applications with superior engineering and design know-how, the BitFenix Team is dedicated to creating the go-to computing products and peripherals for those who refuse to quit. For more information, check out http://www.bitfenix.com.
Last updated: Apr 7, 2020 at 12:05 pm CDT