Compro smartConnect Technology
Mar 7, 2011 5:25 AM CST
Compro smartConnect Technology
The instant messenger to share with video monitoring anytime, anywhere!
Do you worry about your house and pets while you're out? Well now, you can spend less time worrying and spend more time enjoying your life, thanks to Compro's smartConnect technology that lets you set up your own surveillance network in a breeze.
Taipei, Taiwan, March 2010 - Compro Technology has announced the launch of its latest smartConnect technology, the cloud-based peer-to-peer security solution, powered by the versatile Seedonk platform for video monitoring and sharing.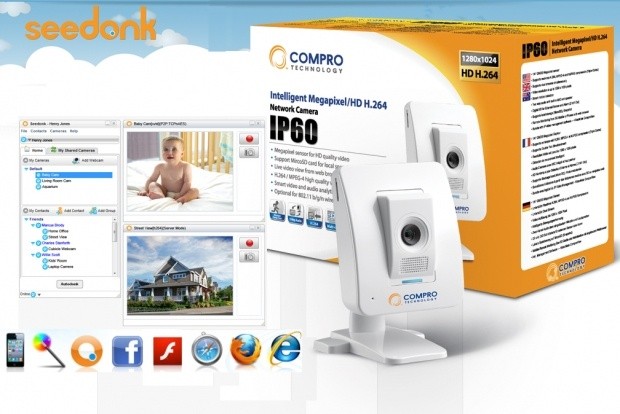 What is smartConnect?
This smartConnect technology turns IP camera installation into a simple 1-2-3 process, simply sign in and select the cameras they want to manage and view. The technology employs an intelligent, adaptive networking engine powered by Seedonk, which helps get rid of the router configuration, memorization of IP address and complex network routing issue common to IP cameras. So from now on, whenever you buy a Compro IP camera featuring smartConnect, you can simply plug in the cables, install the software, and your Compro IP camera is ready to go. You can finally say goodbye to the router configuration and the error messages. What's more? Since the technology is built on secure proprietary protocol and industry standard data channel encryption, smartConnect can secure all network connections.
Brand New User Experience
The smartConnect technology will bring consumers a seamless IP camera viewing experience like no other, as it provides camera access on the widest array of Internet devices - desktop, lap top, mobile phone, tablet, you name it. The Seedonk IM, installed during the quick setup in 5 minutes, is like a popular instant messenger that even your grandpa knows how to use. You can simply log in to the Seedonk IM, and through your friends list, view, record, and share your camera video with friends and families in a simple mouse click! Additionally, the technology's integrated Facebook App and iPhone and Android App let you share video with your Facebook buddies and check in on your pets anytime, anywhere. Compro smartConnect technology is the best way to view and share camera videos in the social networking era.
IP Cameras Designed for Everyone
The smartConnect technology will be featured on Compro cube series IP cameras and Compro IP540 Pan/Tilt/Zoom IP camera. Compro IP cameras are equipped with advanced video technologies like megapixel/HD, and H.264/MPEG-4/M-JPEG compression, to name a few. To learn more about Compro IP cameras and surveillance technologies, visit www.comprousa.com/en/surveillance/.
About Compro
Founded in 1988, Compro Technology Inc, based in Taipei, Taiwan, is a leading manufacture of PC-TV, digital audio/video, and IP security products for the IT and consumer markets. Through innovative, reliable products and services; motivated and talented staff; responsible approach to the business; and collaboration with business partners and customers, Compro Technology is please to introduce an exciting new digital lifestyle to make the world a better and safer place.
About Seedonk
Seedonk provides live video monitoring and sharing service for everyone. Seedonk powers products such as Compro home security cameras, Imogen Studio® Bambino, a wireless Internet baby monitor, and See Daycare, a daycare monitoring service offering mobile viewing for parents. Seedonk is a leading consumer platform for viewing, managing and sharing cameras over the internet. With the Seedonk IM, the Seedonk iPhone App, the Seedonk Android App, and the Seedonk Facebook App, Seedonk helps people view and share their cameras from wherever they might be whether on-the-go or on the social web. For more information, please visit www.seedonk.com.
Last updated: Apr 7, 2020 at 12:04 pm CDT
PRICING: You can find products similar to this one for sale below.

United States: Find other tech and computer products like this over at Amazon.com

United Kingdom: Find other tech and computer products like this over at Amazon.co.uk

Australia: Find other tech and computer products like this over at Amazon.com.au

Canada: Find other tech and computer products like this over at Amazon.ca

Deutschland: Finde andere Technik- und Computerprodukte wie dieses auf Amazon.de
Related Tags