-- GIGABYTE Showcase New Motherboard Technologies at Computex 2011 Industry Tour --
-- Continues Motherboard Innovation Leadership with Industry-leading CPU Power Delivery Technology on New 6 Series Models --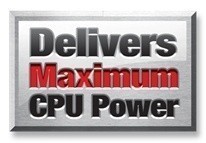 City of Industry, California - December 1, 2010 - GIGABYTE TECHNOLOGY Co., Ltd, a leading manufacturer of motherboards, graphics cards and other computing hardware solutions, today unveiled several exciting new technologies during a COMPUTEX TAIPEI 2011 pre-show press conference held at the GIGABYTE head office. The new technologies feature on upcoming GIGABYTE 6 series motherboards (based on Intel® 6 series chipsets) with the purpose of providing Maximum CPU Power for reliable high-performance computing.
Tim Handley, Deputy Director of Motherboard Marketing at GIGABYTE, explained their innovate and disseminate strategy where new innovations are launched on extreme enthusiast models, such as the X58A-UD9 that debuted at Computex 2010, and then make their way down to the high-end and mainstream models. Demonstrating GIGABYTE's soon-to-be-released flagship motherboard, the GA-P67A-UD7, he highlighted GIGABYTE's Maximum CPU Power technology with an industry-leading 24 phase power design, an Intel® approved Intersil Voltage Regulator Down (VRD) 12 compliant PWM controller, Dual CPU Power, Driver MOSFETs (the new addition to GIGABYTE's signature Ultra Durable 3 features), proprietary DualBIOS™ 3TB+ HDD technology, 10 USB 3.0 ports (total of 18 USB ports with 8 USB 2.0), 3-Way SLI/CrossFireX support, 3x USB Power, On/Off Charge and more...
"The amount and quality of power is the key to CPU performance, as we demonstrated earlier this year with the industry-leading CPU power design on the X58A-UD9 motherboard that is capable of delivering up to 1500Watts," commented Tim Handley. "CPU power design improvements on the 6 series motherboards include the Intel® VRD 12 approved Intersil PWM controller chip, as well as high quality Driver MOSFETs that ensure better efficiency with first class system performance and stability."
New VRD 12 (Voltage Regulator Down) Specification Design
GIGABYTE 6 series motherboards are designed with Intel's latest Voltage Regulator Down specification (VRD 12) using the Intel® qualified Intersil PWM controller that offers SerialVID (SVID) for transfering power management information between the processor and voltage regulator controller. This allows more robust and efficient signaling control between the CPU and PWM controller, hence delivering a more energy efficient platform.
Maximum CPU Power Delivery
GIGABYTE 6 series motherboards with their unique CPU power design, promise to deliver first class system performance and stability. With up to 24 phase power, Dual CPU Power and Power Phase Boost with Multi-gear Switching, the world's leading motherboard CPU power technology will soon be available on performance and even mainstream motherboard models instead of only being available on extreme models, as it was been in the past.
Dual CPU Power
GIGABYTE's proprietary Dual CPU Power technology allows CPU VRM power phases to split evenly into 2 sets of power engines that operate in tandem. This allows 1 set of power phases to rest while the other is active as opposed to a traditional power design where all the power phases are always active. So GIGABYTE Dual CPU Power effectively halves the amount of work done by each set of power phases to significantly increase motherboard durability and reliability.
Driver MOSFETs
By incorporating the MOSFETs and driver IC in accordance with the Intel® Driver-MOSFET specification, GIGABYTE 6 series motherboards allow higher power transfer and increased efficiency at higher switching frequencies to satisfy the power requirements of modern processors. Driver-MOSFETs also help to reduce VRM real estate requirements for a cleaner, less cluttered CPU zone.
GIGABYTE DualBIOS™ with 3TB+ HDD Support
GIGABYTE DualBIOS™ is a patented technology that automatically recovers BIOS data when the main BIOS has crashed or failed. Featuring 2 physical BIOS ROMs integrated onboard, GIGABYTE DualBIOS™ allows quick and seamless recovery from BIOS damage or failure due to viruses or improper BIOS updating. In addition, GIGABYTE DualBIOS™ now supports booting from hard drives that are 3TB (terabytes) or more without the need for partitioning, and effectively provides future-proofing for higher volume single drive data storage.
Keep an eye on the GIGABYTE Tech Daily blog and the official GIGABYTE motherboard website for more information and announcements about upcoming GIGABYTE 6 series of motherboards.
About GIGABYTE Upgrade Your Life
GIGABYTE, headquartered in Taipei, Taiwan, is known as a global leading brand in the IT industry, with employees and business channels in almost every country. Founded in 1986, GIGABYTE started as a research and development team and has since taken the lead in the world's motherboard market. On top of motherboards and graphics accelerators, GIGABYTE further expanded its product portfolio to include notebook and desktop PCs, digital home entertainment appliances, networking servers, communications, mobile and handheld devices, servicing every facet of people's lives at home or business. Everyday GIGABYTE aims to "Upgrade Your Life" with the most innovative designs and impeccable quality and services. Visit www.gigabyte.us for more information.
Last updated: Apr 7, 2020 at 12:03 pm CDT