Arctic Announces Arctic Sound Series 2.1 Speakers
The ARCTIC S series 2.1 Speakers bring best audio quality for all needs. Dive into pure sound and make your PC to a real multimedia system. The speakers in the ARCTIC SOUND S Series features excellent sound quality with rich bass and clear highs. High fidelity drivers along with quick and precise responding driver coils play your music the way it is thought to be played.
The sleek and contemporary designs of these metallic-looking speakers blend seamlessly into any media center environment and emphasize your modern lifestyle. The different sizes will fit into either limited areas or spacious environments. All of the speakers are integrated with volume, bass, and treble controls, either on one of the satellites or on a control pod. Tweaking those settings with turning knobs are at user's fingertips. These easily accessible fine-tuning dials ensure personalized listening comfort and enhance listening pleasure as well.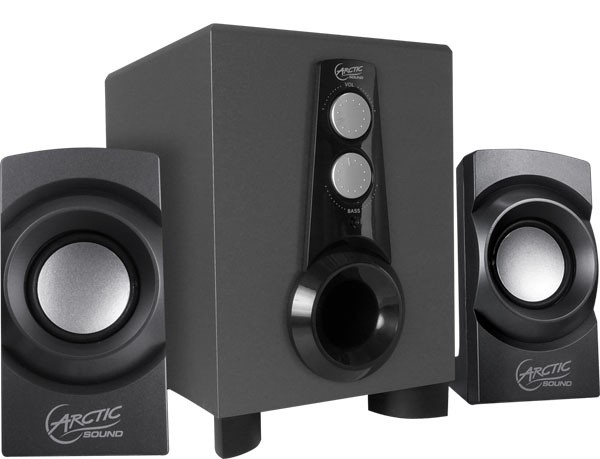 Easy to Setup
As the speakers are AC powered, they are very easy to setup. Adequate cable length allows users to have flexibility when connecting the speakers to PC systems. Multiple audio inputs on these systems make them to be a great companion for any media systems as well, including TV, DVD and CD players. Convenient access to 3.5mm jacks on satellites is great for instant connectivity.
[img]2[/img]
ARCTIC SOUND S151
Featuring slim and chic design, the ARCTIC SOUND S151 is ideal for home and office use. The dimension of the speakers is compact enough to use it as an accompaniment for desktop PCs. With 10W RMS subwoofer and 3.5W RMS in both satellites, this 3-piece system is able to deliver a full sound spectrum of balanced audio playback.
[img]3[/img]
ARCTIC SOUND S161
The foremost and notable characteristics of the ARCTIC SOUND S161 are its stylish and circular speakers design. Blue circular LED lights on the satellites add an elegant texture to this speaker system. Enjoy the delivery of decent mid-bass and trebles output with its 11W RMS subwoofer and 3.5W RMS satellites. The simple yet solid design makes this set of speakers a perfect complement for any stylish interior settings.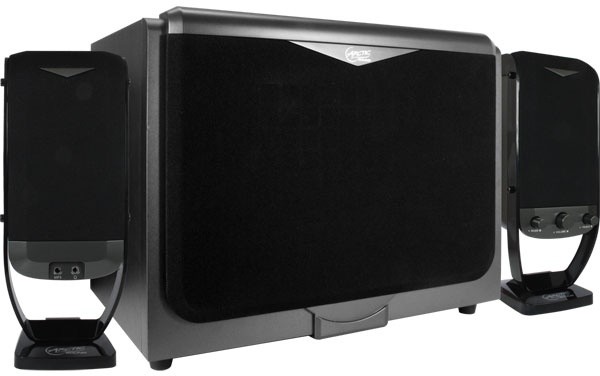 ARCTIC SOUND S361
The dual driver subwoofer and dual driver satellites in the ARCTIC SOUND S361 promise rich and defined sound quality. 40W RMS subwoofer and 18W RMS satellites output produce full-blown bass and crystal-clear trebles for any music genres. Its classic rectangular shape along with the combination of shiny and matt finish emphasizes simplicity and modernity.
The wired remote control pod, gives you access to fine-tune your music. You can also mute and control the volume easily. Furthermore, secondary audio inputs, microphone, headphone and AUX sockets are on the control pod for quick connection.
ARCTIC SOUND S362
Be mesmerized by heart-thumping bass of the ARCTIC SOUND S362 in exhilarating movies, and intense video and PC gaming. With a total of 74 W RMS, this high-end 2.1 system dramatically elevates your listening experience. With a large 144mm high fidelity membrane, the subwoofer plays a thunder-like bass.
The speakers give you direct access to connections of further devices, such as earphones or MP3 players, and controls to fine-tune music on your desktop speaker.

Last updated: Apr 7, 2020 at 12:03 pm CDT