World's Greenest Petaflop Supercomputers Built With NVIDIA Tesla GPUs
GPU Supercomputers Deliver World Leading Performance and Efficiency in Latest Green500 List
NEW ORLEANS, LA -- (Marketwire) -- 11/18/2010 -- SC10 -- The "Green500" list of the world's most energy-efficient supercomputers was released today, revealing that the only petaflop systems in the top 10 are powered by NVIDIA® Tesla™ GPUs.
Of these GPU-powered petaflop systems, Tsubame 2.0, from Tokyo Institute of Technology (Tokyo Tech), was ranked number two; and Tianhe-1A, the world's fastest supercomputer from National Supercomputer Center in Tianjin, was ranked number 10.
"The rise of GPU supercomputers on the Green500 signifies that heterogeneous systems, built with both GPUs and CPUs, deliver the highest performance and unprecedented energy efficiency," said Wu-chun Feng, founder of the Green500 and associate professor of Computer Science at Virginia Tech.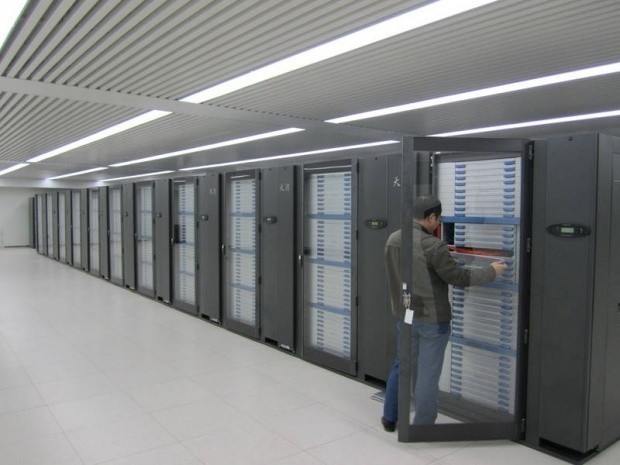 *Tianhe-1A Supercomputer at the National Supercomputer Center in Tianjin
GPUs have quickly become the enabling technology behind the world's top supercomputers. They contain hundreds of parallel processor cores capable of dividing up large computational workloads and processing them simultaneously. This significantly increases overall system efficiency as measured by performance per watt. "Top500" supercomputers based on heterogeneous architectures are, on average, almost three times more power-efficient than non-heterogeneous systems.
Two other Tesla GPU-based systems made the Top 10 and Tesla GPU-based systems installed at CSIRO in Australia and National Supercomputer Center in Shenzhen were also ranked 11 and 12 respectively.
Many of the leaders of those supercomputing centers recognized by the Green500 organization are present this week at the SC10 conference in New Orleans. They made the following comments:
Quotes:
Prof. Satoshi Matsuoka of Tokyo Tech said: "Our goal with Tsubame 2.0 was to deliver petaflop performance in as small a power envelope as possible. Moving to Tesla-based GPU supercomputers was the only way to achieve this."
Dr. Jeffrey Vetter of Georgia Tech and Oak Ridge National Laboratory said: "Keeneland is a proving ground for software development spanning research and industry. Through its use of GPUs and heterogeneous architectures, we are paving the way to energy-efficient exascale computing."
Dr. Gareth Williams of Australia's CSIRO said: "With the help of GPUs, we have succeeded in developing the fastest, most efficient supercomputer in Australia. With this kind of computational resource, we will be able to dramatically advance the pace of our research."
"The high performance per watt of Tesla GPUs has made them the architecture of choice for modern supercomputing, as evidenced by GPU supercomputers being the only petaflop-capable systems in the Top 10," said Andy Keane, general manager, Tesla business at NVIDIA. "We congratulate all the centers that have been recognized for their work in this year's Green500."
About NVIDIA
NVIDIA (NASDAQ: NVDA) awakened the world to the power of computer graphics when it invented the GPU in 1999. Since then, it has consistently set new standards in visual computing with breathtaking, interactive graphics available on devices ranging from tablets and portable media players to notebooks and workstations. NVIDIA's expertise in programmable GPUs has led to breakthroughs in parallel processing which make supercomputing inexpensive and widely accessible. The company holds more than 1,600 U.S. patents, including ones covering designs and insights which are essential to modern computing. For more information, see www.nvidia.com.
Last updated: Apr 7, 2020 at 12:03 pm CDT