GIGABYTE Introduces T1125 'Der Kavalier' - the 3rd Generation GIGABYTE Booktop
Booktop, the revolutionary docking station concept GIGABYTE thrived on, has evolved to a whole new level! Following the success of M1022 in 2009, the first generation 10.1" Booktop laptop and the only laptop to win a Golden Pin Design Award, GIGABYTE immediately introduced M1305, the second generation 13.3" laptop equipped a docking station featuring a desktop-level NVIDIA graphics card. This brilliant innovation has already dazzled the market, but GIGABYTE is not satisfied just yet.
Perceiving growing consumer demand for mobile computing applications and the lack of integration between individual functions for similar mobile devices in the market, the RD team at GIGABYTE capitalized on its 20 years of professional experience and introduced T1125, the third- generation swivel 11.6" touch screen Booktop and the first of its kind in the industry that creatively combines the advantage of a tablet PC and docking technology in 2010. T1125 features both a swivel touchscreen and a removable Super multi DVD . With the docking station, T1125 instantly turns into a tablet PC on the go and a desktop PC with a DVD-ROM at home. T1125 is the first three-in-one computing device that provides users with a multitasking mode and completely revolutionizes all existing laptop user scenarios.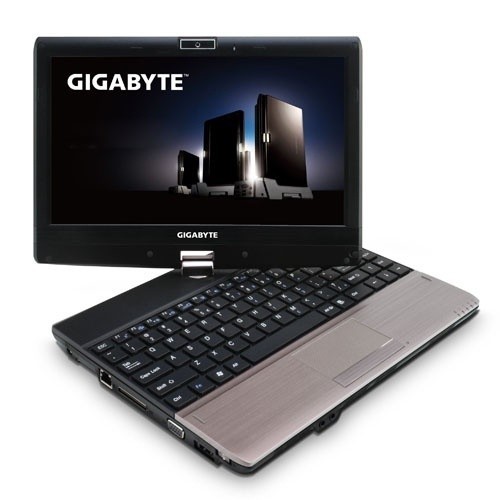 Besides the latest Intel i5/i3 ULV (ultra-low voltage) processor, T1125 also incorporates NVIDIA Optimus technology and the newest USB3.0 ports. For multimedia support, T1125 features built-in HDMI, THX-certified, optimized sound performance and four dual-channel stereo speakers rarely seen on a laptop to offer users the ultimate multimedia experience. Not only does it have a high standard performance, its elegant and classic design can be seen from its ultra-slim appearance decorated with a brushed metal pattern. With T1125, a high performance laptop with a charming appearance, GIGABYTE will demonstrate its exceptional ability to develop innovative and high quality products. T1125 is scheduled to launch in November 2010 with a suggested retail price of USD$1,299.
Five Major Innovations to Deliver Unprecedented Mobile Technology Experience
1) Innovative Design: Crafty Concept, Three Gizmos in One
GIGABYTE is always focused on developing products that meet consumers' daily needs, and T1125 'der Kavalier', the third-generation Booktop, is a result of years of R & D. It is the first time GIGABYTE integrated a Tablet PC and the exclusive in-house docking station technology. Users can directly slot T1125 into a docking station even when T1125 is still on to easily convert it into a desktop PC, connecting peripheral devices, such as monitors, a keyboard and a mouse. If users need to take T1125 to go, they can simply undock T1125 without reboot. This versatile design combines convenience, or the strength of a laptop, and comfort, or the advantage of a desktop PC, to bring consumers diverse and fashionable new mobile lives. They can enjoy a Tablet PC in an outdoor environment and upgrade to a desktop PC with a DVD while at home!
[img]2[/img]
The slim and agile appearance, combined with the vertical design, allows T1125 and the docking station to stand upright on the desk like a book that does not take up much space, to act as a stylish household decoration, to recharge the battery and to install a removable DVD. In terms of size, T1125 is only at 11.6", the most suitable for carry-on, and the large key pitch is very comfortable even for male adults. For ladies who prefer lightweight laptops, the 1.7kg weight will not be burdensome. The LED backlit monitor is both power efficient and comfortable for long gaze. It supports multi-touch function and is 180° swivable. Such creativity incorporates the strengths of a laptop, tablet and desktop into a three-in-one design that enables many possibilities for you to get everything done in just one device.
2) Innovative Experience: High Standard Spec, Cinematic Thrill
Both T1125 and the docking station are equipped with USB3.0 super speed ports. This feature delivers ultra-high speed experience which is 10 times faster than current USB2.0 ports and completes file transfers in the blink of an eye. The superior power supply capability and true dual-directional transmission mechanism together keep files synchronized anytime and anywhere, making digital life at your fingertips. T1125 also supports HDMI digital output to avoid signal distortion and to deliver smoother and more colorful full HD-level visual enjoyment.
[img]3[/img]
Additionally, T1125 is equipped with eSATA / USB combo interfaces that are much faster than USB2.0 and FireWire, allowing users to easily enjoy file transfer at the speed comparable to an internal HDD. The built-in 130 megapixel webcam, dual array microphone, and four dual-channel stereo speakers rarely seen on a laptop, when combined with the Intel High Definition technology, allow users to enjoy video conferencing with a life image as a face-to-face chat.
3)Innovative Intelligence: Five Thoughtful Designs, Smart and User-friendly Technology
T1125, GIGABYTE's new concept laptop, features many user-friendly designs. The exclusive Smart Switch allows users to switch between 64-bit Windows 7 and 32-bit Windows 7 and enjoy the speed of a 64-bit OS and compatibility of the 32-bit OS. Users will never be troubled by software incompatibility again. By simply hitting the function key on the right side, users can instantly bring up the thoughtfully-designed Smart Manager. In Smart Manager, related programs are grouped together through a single icon-based interface where user scenarios can be set up to create a customized environment. To better meet customer needs, the Smart Charge feature allows T1125 to charge external devices via an USB2.0 port even in the Sleep/Standby mode. Users can set T1125 to automatically cease USB power supply when the remaining battery life is under 30%, 40%, or 50% and ensure sufficient battery life for subsequent laptop use. Additionally, with the Battery Status Indicator users can check the remaining power level even when T1125 is powered off. Users only need to click the right button on the laptop touch pad or the designated button at the docking station (when T1125 is docked), and worry no more about unexpected low battery power supply. Talking about considerate designs, users can never miss Modularized Design. With a mere screwdriver, users can easily perform memory or HDD upgrades or maintenance, which is easier than ever and can satisfy all kinds of needs for mobile users.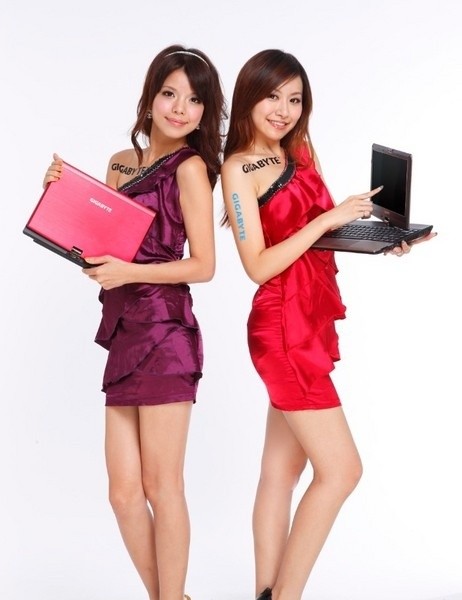 4)Innovative Mobility: Full Support for Boundary-free Mobility
With Intel i5/i3 ULV (ultra-low voltage) processor, the performance of T1125 is enhanced without compromising battery life. Microsoft Office 2010 Starter is preinstalled for users to experience the latest technology; the DDRIII memory module and 2.5" high-capacity SATA Hard Drive together free users from restrictions of insufficient storage space; the WiFi signal travels on IEEE 802.11n to provide a faster data transmission speed. Also, T1125 features a built-in HSDPA antenna, and users only need to add a 3.5G module to enable broadband high speed connection. Indoor or outdoor, users can go online anytime and anywhere and conveniently share information with friends to experience "Wireless Internet in ultimate freedom!"
5) Innovative Eco-friendliness: Energy Conservation and Power Efficient - Simultaneous Initiatives
Last updated: Apr 7, 2020 at 12:03 pm CDT