Innovative ENVISION 61 Series - Visual and Tactile Sensation
ENVISION is aiming to become a technology innovator and be ahead of time always searching for progressive ideas. Setting new trends in the LCD industry ENVISION creators are perpetually thinking of its consumers - unconventional, open-minded, ready capture and embrace the Change. With ENVISION 61 series you will be able to distinguish yourself as a leader, not a follower.
Exceptional Style and Exclusive Features
Featuring large sizes from 21.5-inch up to 23.6-inch ENVISION LCD 61 Series designed by creative specialists spotlights elegant aesthetic piano glossy design with a matching ergonomic space-saving stand. This series models are equipped with several exclusive features which offer a high-quality usage experience. The unique element that makes outstanding difference in this ENVISION series is an elegant Capacitive Touch Switch - a sliding switch technology used in iPhone, which provides easy access to the OSD, allows easy monitor options control while leaving no finger prints on the elegant piano coating.
High-definition widescreen, providing 1920x1080P Full HD high resolution for optimum picture quality richness, 60,000:1 dynamic contrast ratio, combined with ultra-wide 170 degrees viewing angle ENVISION 61 Series reproduces the most vivid colors, striking contrast and provides the best quality image experience. Its 5ms signal response time together with ENVISION exclusive EDE2 (ENVISION DISPLAY ENGINE) enables to easily handle rapidly moving images, making it ideally suited for high performance applications such as high-definition video playback, gaming, and graphic design.
Features Introduction:
- Widescreen with 1920x1080P Full HD highest resolution enables the user to play 16:9 HD videos without reality distortion
- Resistive Capacitive OSD Touch Button provides intuitive interaction with the monitor and allows the user to turn on/off the screen power with just one finger gentle glide
- 60,000:1 high dynamic contrast, sharper screen text display and 5ms response time allows the user to have optimum richness and clarity in picture quality
- Standard VESA wall mounting holes make G2461w suitable to fit into home environment and family decor
- Auto-off timer allows user to shut off the monitor at hourly intervals. Proved to be more energy efficient than hibernation mode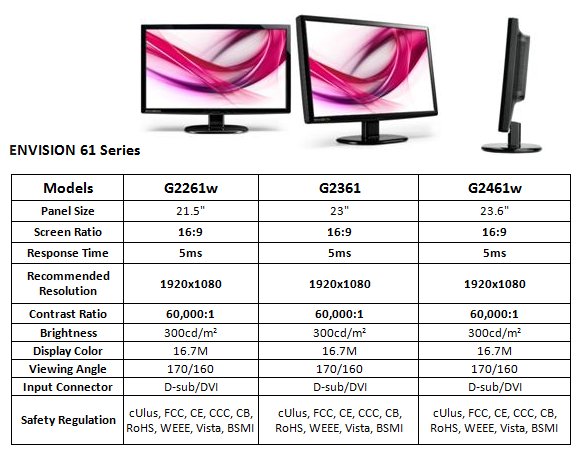 About ENVISION Enrich Your World
ENVISION first originated in the United States Fremont, California to focus on high-end brand development and introduction of the leading technology products. With nearly 25 years of experience in development and manufacturing of display devices ENVISION have earned a reputation for selling the most user-friendly, surprisingly affordable displays on the market.
With the strong belief in the slogan "Enrich Your Life", ENVISION has an ultimate goal of reaching perfection in creating the ideal visual experience. ENVISION's spirit "reach for your dreams, freedom in living" expresses itself in elegant design finishes, user-friendly features and environment-friendly technology creating the best synergy for every user. Timeless as the stone itself, ENVISION monitors pass the strict 4 C value certificate: Crafted Design, Colorful Sensibility, Contrast Sensitivity, and Comfortable using. They all prove ENVISION persistent endeavor to bring dreams to reality, freedom to life.
ENVISION has won the "Computer DIY magazine" 2009 Year Award, "PC Magazine " Editors' choice, "Smart Computing" Top 10 Monitors, "PC World" Smart Choice, and other professional awards.
Last updated: Apr 7, 2020 at 12:03 pm CDT