Creative Announces ZiiSound T6 Wireless Speaker System
Creative Technology Ltd. today announced the Creative ZiiSound T6 - the latest addition to its extensive Pure Wireless speaker family. The all new speaker system assumes the position of the flagship Surround Sound wireless speaker in the Pure Wireless speaker range.
The ZiiSound T6 personifies everything the Pure Wireless speaker range is, where speakers have been engineered for wireless audio perfection, based on Creative's in-house wireless technology reference system - an engineering optimisation that brings out the best wireless audio performance in Bluetooth and apt-X technologies for speakers.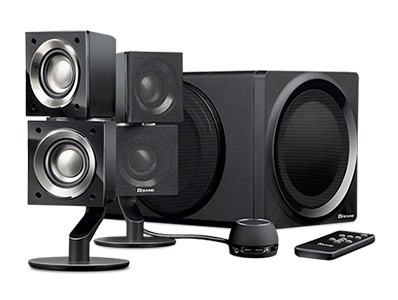 Like its predecessors, the ZiiSound T6 retains the characteristics that have made the Pure Wireless speaker range a success:
• Works with all compatible stereo Bluetooth devices like notebooks, netbooks, the iPhone, iPad, PCs, Macs and tablet computers
• Quality wireless audio transmission
• Fast and easy connection
Each ZiiSound T6 speaker system comes with the following audiophile-grade features that guarantee performance that is beyond best-in-class:
• Swivel satellite top drivers for Surround or Stereo applications
• USB 5.1 audio (software decoder required)
• High performance low latency apt-X codec
• Audiophile-grade satellite drivers
• Creative SLAM three-driver-subwoofer, with its signature deep, tight bass delivers Low Frequency Effects (LFE) that can be felt
The ZiiSound T6 now brings the wireless speaker experience further than any previous speaker in the Pure Wireless range - it delivers high quality wireless Surround Sound, as well as 5.1 Surround content via a wired USB connection:
Wireless Surround Sound
The apt-X high performance low latency codec enabled speaker system comes with a subwoofer and a pair of adjustable Swivel-Speaker-Array satellites that give users the option for stereo music or 'theatre-like' Surround Sound streamed from wireless apt-X devices - such as netbooks, notebooks and tablet computers like the ZiiO Pure Wireless Entertainment Tablet - for a completely immersive wireless music, movie and gaming experience. What is more is that it transforms all compatible stereo Bluetooth devices into a wireless remote control.
USB 5.1 Surround
The ZiiSound T6 also offers users the option of enjoying 5.1 Surround content via a wired USB connection. The three-piece-system is capable of 'full-bandwidth' audio from 5.1 digital soundtracks. With sound pressure levels to fill compact-sized living rooms, the ZiiSound T6 takes entertainment beyond the desktop and is the ideal companion speaker system to new age media entertainment centres and the ever growing wireless hand-held ownership.
"The ZiiSound T6 now reinforces the Pure Wireless speaker family - a family of wireless speakers that offers a wireless speaker for everyone at every price point. It further enhances Creative's standing as the only company to offer a full comprehensive range of wireless solutions: from a one-piece speaker, to 2.0 speakers, to 2.1 speakers, and now to multi-channel Surround Sound speakers," said Ting Lai Chu, Vice-President for Advanced Multimedia Group at Creative.
"In fact, with Christmas just round the corner, we will be the only company to offer customers a full range of six wireless speaker models to choose from - something no other company is doing."
ZiiSound T6 Key Features:
• Seamless wireless music streaming with any compatible stereo Bluetooth tablet PC, smartphone, music phone, netbook, notebook, media entertainment centre and just about every Bluetooth A2DP enabled device
• Built-in high performance low latency audio codec for superior Bluetooth audio
• Enjoy 5.1 digital movie or game soundtracks when connected via wired USB to a PC, netbook or notebook
• Swivel-Speaker-Array for Surround Sound
• Creative SLAM Subwoofer for deep, tight bass
• IR remote for improved convenience / control
• Audiophile-grade drivers deliver silky smooth music and movie playback
Pricing and Availability
The ZiiSound T6 will be available at the online store at creative.com/shop in UK from mid December 2010 onwards at the suggested retail price of £349.99.
Last updated: Apr 7, 2020 at 12:03 pm CDT