NEXUS TECHNOLOGY INTRODUCE THE SILENT MOUSE SM-7000B
The SM-7000B (Silent Mouse Black) is an advanced 2.4G wireless optical mouse which connects to your PC, MAC or laptop with a super small nano receiver and has a 1000/1600 DPI selection button.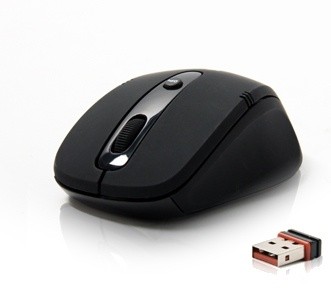 Comfortable shape and material
The Nexus Silent Mouse has a comfortable size and is an excellent mouse for desktop use. But also for laptop users it is very suitable. Especially because of the small nano receive which you plug in a USB port and leave it there. It is so small that you do not need to take it out...you just forget its there. Furthermore the mouse is made from quality surface treatments so it feels good in your hand.
[img]2[/img]
Patented Silent Switch technology
The switches we have used for the Silent Mouse have a patented construction and lack the "click" sound when you press them. You will be amazed how much more relaxing it is when you get rid of this useless sound in your working environment.
DPI selection button
On top of the mouse is a convenient 1000/1600 DPI selection switch to alter the mouse speed. Fast when you need speed and slow when you need accuracy.
[img]3[/img]
Highlights
• Advanced 2.4Ghz wireless technology
• Nano receiver that stores in mouse
• 39 channels
• 16 Bits
• 1000/1600 DPI switch
• Auto power save mode
• Sensor light: red
• 2x AAA battery included
• Size:9,8x7,0x3,7cm
Demonstration
Here we try to give you an idea about the sound difference compared to a regular nice quality mouse. Check out the video and you will hear what we mean. The test is not done in a anechoic chamber so the dB(A) values are just for comparison.
Last updated: Apr 7, 2020 at 12:03 pm CDT