TDK Life on Record releases new Headphones
TDK Life on Record 'sounded' out the market for headphones when they released their debut range in the mid 90s. A decade on, their brand is now a major player in the category and the release of two new offerings is set to cement their reputation as a supplier of affordable, high quality audio accessories.
WR700 Wireless Headphones
Perfect for in-home use with stereo systems as well as on-the-go, TDK Life on Record's WR700 Headphones bring you first class sound without the limitation of a cable. The product's 'Kleer'™ lossless wireless audio technology offers unique uncompressed digital audio in CD quality.
While the WR700 Headphones are 'ear-cup' style, they're very compact - this coupled with wireless convenience makes them highly portable- a transmitter comes with the headset which plugs directly into the audio device for an immersive listening experience.
With TDK Life on Record's Kleer™ wireless technology, the sound is not compressed during transmission - a limitation often associated with wireless technologies.
These headphones are compatible with all media devices using a 3.5mm headphone port. Four AAA batteries are required - two in the transmitter unit and two in the headset provide 40 hours of listening time. The product also boasts 'dynamic channel selection' - a feature which minimises audio 'drops' and ensures a high-fidelity stereo sound.
The transmitter has a range of 10metres (33ft) enabling the user to walk about a large space, whether in the office or at home, listening uninterrupted to their choice in music or audio for the ultimate in convenience when studying, working or exercising.
The WR700 Headphones are stylish in appearance and designed for comfort on the ears, efficiently blocking out exterior noise and providing a superior listening experience.
EB900 In-Ear Headphones
Built to deliver high fidelity audio and superior comfort during extended wearing the TDK Life on Record EB900 In-Ear headphones feature Comply™ foam tips that create an in-ear seal to block ambient noise and significantly reduce audio leakage. For optimal comfort, three alternative sizes of silicon tips are included with the EB900s to ensure an appropriate fit.
Compatible to all devices with a 3.5mm headphone port, the EB900s feature a braided cable extending 1.2 metres - the advantage of the braiding ensures tangles are virtually eliminated.
A high performance dynamic speaker, the TDK Life on Record EB900 Earphones inject quality sound directly into the ear, delivering superior bass tones while providing optimal comfort for on-the-go music listening enjoyment.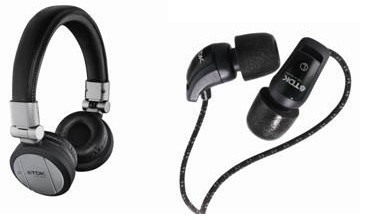 RRPs:
WR700 Headphones: $199.00
EB900 Headphones: $ 79.95
Available:
now from all good electrical retailers.
About TDK Life on Record Recording:
The TDK Life on Record logo is a trademark owned by TDK Corporation and is licenced exclusively to Imation Corp., a leading global developer and marketer of brands that enable people to capture, save and enjoy digital information. With a world-class portfolio of digital storage products, audio and video electronics, and accessories which reaches customers through a powerful global distribution network. The result is a company with strong commercial and consumer businesses and continued long-term growth and profitability that creates shareholder value. Additional information about Imation is available at www.imation.com.au. TDK Corporation's Recording Media business www.tdk-media.com.au was acquired by Imation Corp. in 2007. The company is the exclusive global licensee of all TDK Brand Recording Media products.
Last updated: Apr 7, 2020 at 12:02 pm CDT