Mad Catz Unveils AX 180 Wireless Gaming Headset
Mad Catz Interactive, Inc. ("Mad Catz" or "the Company"), a leading third-party interactive entertainment accessory provider today announced the launch of the AX 180 wireless gaming headset being launched under the Company's TRITTON gaming audio brand.
Based upon the critically-acclaimed wired AX 180, the new wireless TRITTON headset uses 2.4GHz wireless technology to free gamers from wired constraints, allowing total immersion and freedom of movement, while providing the high-fidelity sound quality which gamers have come to expect from the TRITTON brand.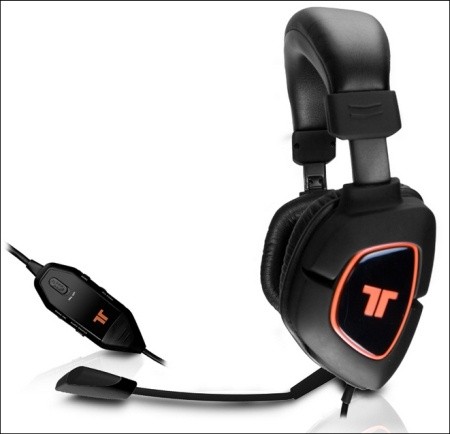 An ideal introduction to the world of Pro-Gaming Headsets, the AX 180 Wireless Gaming Headset accepts analog stereo audio from any console or computer, while the compact wireless Base Station is powered by a USB port negating the need for an external power adapter while allowing for USB connectivity for PlayStation 3, PC and Mac. The unique Portable Control Unit can be conveniently clipped onto a belt, placing the controls within easy reach of the gamer while removing battery and transmitter weight from the headset. Featuring independent game and voice volume controls, a mute switch and Xbox LIVETM port, the Portable Control Unit also features a 'Selectable Voice Monitoring' (SVM) switch, an 'industry first' innovation which allows gamers to monitor or mute their own voice. In addition, the Portable Control Unit features a selectable '3D audio switch' which expands the sound stage for both stereo and surround-sound audio. The Portable Control Unit is powered by either standard or rechargeable AA batteries with a set of rechargeable batteries included in pack. Equipped with precision balanced drivers which deliver audiophile sound quality and a detachable mic to ensure crisp, clear communication, the AX 180 Wireless Gaming Headset is a key ally for those who take their gaming seriously.
MSRP: $149.99
For gamers who own the current wired TRITTON AX 180 Gaming Headset, the Portable Control Unit and Transmitter will be available as an upgrade, expected to beginning shipping from Fall 2010.
Darren Richardson, President and Chief Executive Officer of Mad Catz commented, "We are delighted to introduce this new wireless gaming headset which we believe will serve as an ideal debut to our new range of gaming audio products. TRITTON is a brand long synonymous with audio excellence and we are convinced that the combination of audiophile sound quality and wireless flexibility will prove enticing to gamers everywhere."
The TRITTON AX 180 Gaming Headset is expected to be available world-wide beginning September 2010.
Last updated: Apr 7, 2020 at 12:02 pm CDT