VisionTek Announces its Killer 2100 Gaming NIC
VisionTek Products today announced the official launch of the VisionTek Killer 2100 Gaming Network Card. VisionTek has partnered with Bigfoot Networks to manufacture and sell the fastest network card ever made for online games through North American online and retail channels, as a compliment to VisionTek's full line of PC graphics cards and accessories.
This network interface card (NIC) combines elements of speed, intelligence and control demanded by gamers with major throughput and latency enhancements and an innovative and easy-to-use software interface. The VisionTek Killer 2100 epitomizes blazing speed and maximum performance of up to 10X better than that of standard connections, with a sleek, new race-inspired exterior.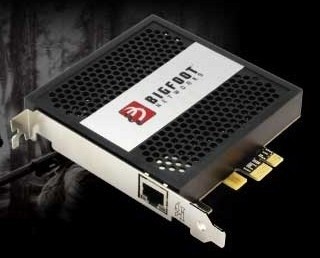 "The majority of new PC game titles are built for the on-line environment," said Michael Innes, COO & EVP of VisionTek Products, LLC. "Everyone is looking for an edge to enhance their on-line experience and the launch of the Killer 2100 product brings significant improvements to this environment. Online gaming is the dominant factor keeping the PC gaming platform flourishing and the new Killer 2100 product takes it to another level."
"Killer 2100 is the only network card that actually improves the online gaming experience," said Michael Howse, CEO, Bigfoot Networks. "Its Network Processing Unit and unique Game Networking DNA offload and accelerate game traffic, providing the smoothest, most responsive experience online gamers have ever had. We're delighted to partner with PC enthusiast vendor, VisionTek to give their gaming customers a crucial edge over their competition."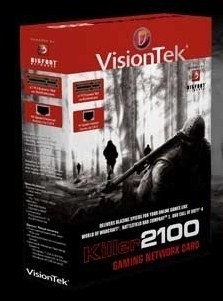 The VisionTek Killer 2100 Gaming Network Card is based on Bigfoot Networks' groundbreaking Game Networking DNA technology, comprised of a dedicated network processor (NPU), Advanced Game Detect, Windows stack bypass, Visual Bandwidth Control and other optimizations designed to deliver the best online gaming experience possible. A plug-and-play solution, the VisionTek Killer 2100 accelerates latency-sensitive game traffic while reducing stuttering, freezing and other symptoms of lag, giving online gamers a competitive edge at every level of experience. For those who want to tune their PC, this card offers powerful tools for monitoring and optimizing network performance from Visual Bandwidth Control real-time feedback to an Online Gaming PC Monitor feature for at-a-glance graphical displays for tracking performance statistics.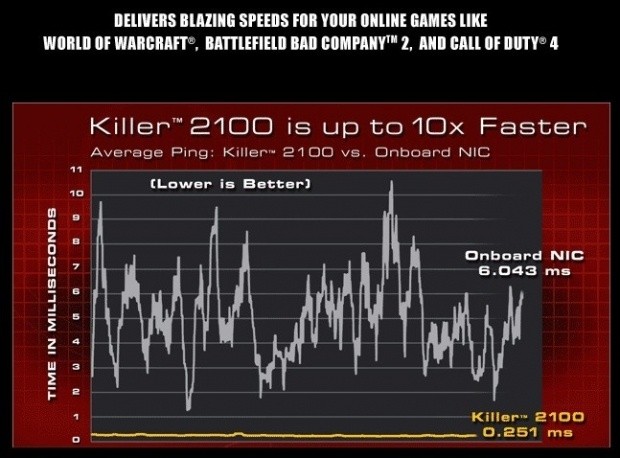 The VisionTek Killer 2100 Gaming Network Card starting at an MSRP of $129.99 is now available or coming soon to Best Buy.com, CompUSA, Dell.com, NewEgg.com, Tiger.com, NCIX, Amazon.com, Buy.com, D&H Distribution and Ingram Micro Distribution, in Systemax and MainGear PCs and at other leading PC consumer outlets in North America.
Last updated: Apr 7, 2020 at 12:02 pm CDT