CyberPower 3D Vision Desktop PC Series Adds New "Dimension" to Eye-Popping Gaming
BALDWIN PARK, CA (June 4, 2010) -- CyberPower Inc., www.cyberpowerpc.com today announced a series of desktop gaming PCs that will feature NVIDIA's new 3D Vision graphics technology in its Gamer Xtreme and Gamer Ultra series of desktop gaming systems.
Entertainment and gaming enthusiasts can immerse themselves in a world where games, Blu-Ray movies, and photos come to life in eye-popping 3D. CyberPower's new 3D Vision PCs feature the latest GeForce GTX 400 series graphics, which includes the newly launched GTX 465 to maximize your 3D entertainment experience. With CyberPower's 3D Vision ready gaming systems, you can enjoy over 350 PC games, view pictures and standard and Hi-Def movies in full 3D.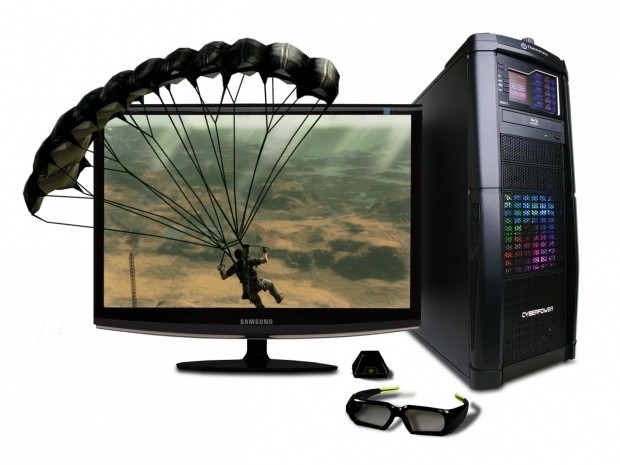 "We are excited about incorporating the new 3D PC category into our mix of gaming desktops," said Eric Cheung, CEO of CyberPower. "As 3D gaming technology continues to evolve, integrating 3D PCs into our product lineup is essential to provide consumers the perfect solution for 3D gaming and entertainment."
CyberPower customers can begin customizing a 3D-ready PC or a complete 3D Vision PC with 3D monitor and glasses. In addition, CyberPower's 3D Vision PCs can be optionally equipped with powerful Intel Core i3, i5, or i7 processors or AMD's six core Phenom for smooth system performance. The starting price for a CyberPower 3D Vision-based system will be $1299.
http://www.cyberpowerpc.com/landingpages/nvidia/3dvision/
CyberPower's 3D Vision-based gaming PCs can be easily factory overclocked by CyberPower and customized with a number of hard drives, SSD, Blu-Ray devices to enhance your 3D entertainment. High performance memory upgrades, and other peripheral components options are also available at the company website.
All systems are pre-loaded with Microsoft Windows 7 64-bit Operating System to enhance your gaming and multimedia experience. All CyberPower computer systems come with a 3-year limited warranty and free lifetime phone support.
About CyberPower Inc.
CyberPower Inc. www.cyberpowerpc.com was founded in 1998 and has emerged as one of the leading custom computer system manufacturers. Headquartered in Baldwin Park in Southern California, CyberPower manufactures and distributes a complete line of custom built Gaming Desktops, Gaming notebooks and high performance workstations to meet the unique needs of gamers, businesses, government agencies, educational institutions and other end-users. For more information contact: Sales (800) 707-0393; Email cyberpower@cyberpowerpc.com.
Last updated: Apr 7, 2020 at 12:02 pm CDT