Silicon Power Armor A80 Portable Hard Drive
Smooth sports car like aerodynamics, ultra fast transfer speeds
May 31, 2010, Taipei, Taiwan ~ One of the world's leading flash manufacturers, Silicon Power today (5/31) announces a new addition to the ultra rugged Armor series lineup, the A80. The Armor A80 uses the royal blue color on its base frame that is commonly found in high performance sports cars; as for A80's performance, its outstanding read/write speed is coupled with the latest USB 3.0 interface and is backwards compatible with USB2.0. The USB 3.0 interface features a 5 Gbps/sec bandwidth which is 10x the bandwidth of a USB 2.0 interface. It saves users precious time backing up to and from the hard drive when transferring mass data files. Come and experience speed like a high performance sports car!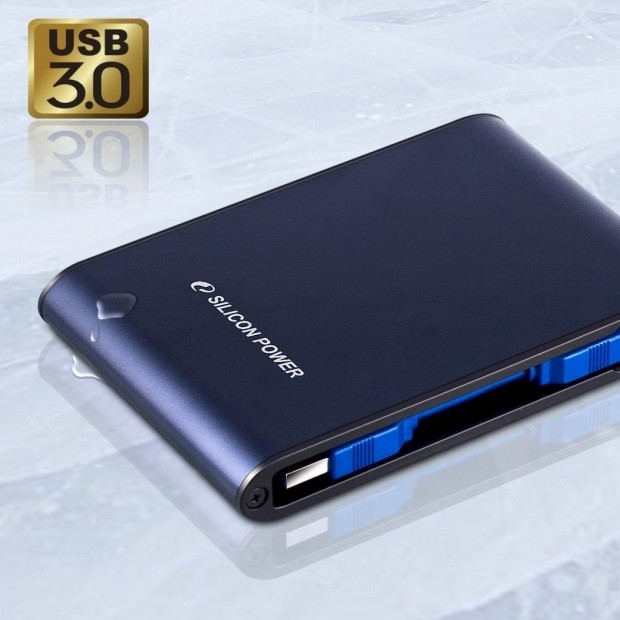 In addition to its excellent read/write performances, Armor A80 continues the Armor series rugged functionality feature. Armor A80 is in compliance with US military grade transit drop test (MIL-STD-810F 516.5 procedure IV) and it also passed IEC529 IPX7 (waterproof test). The Silicon Power Armor A80 can be placed under water up to a meter deep and for up to 30 minutes without damage. Under normal operations, it is also dust-proof and pressure resistant. Its' hot plug and play functionality is supported by a convenient cable storage design, bringing its practicality up another level!
Armor A80 portable hard drive is in compliance with USB 3.0 specifications and it also comes with seven major protection functions that are featured in the SP Widget (free download). It also comes with a 60 day trial version of Norton Internet Security (NIS). Built-in with a LED status indicator light, it shows power and data transfer statuses.
Features
- USB 3.0 Super Speed (High transferring rate up to 5 Gbps/sec)
- Meet the water resistant standard "IEC 529 IPX7"
- Meet the U.S. military drop-test standards MIL-STD-810F 516.5 procedure IV (transit drop test) with advanced two-stage anti-shock technology
- Anti-pressure and anti-dust function
- Cable carry design
- LED indicates power on and data access
- SP Widget free download software features seven main functions to maximize your SP Portable Hard Drive
Specifications
- Dimensions: 139 x 96 x 18 mm
- Weight: 270g
- Standard Compliance:USB 3.0 / 2.0
- Data Transfer Rates: Max. 5 Gbps (USB 3.0 Mode)
Max. 480 Mbps (USB 2.0 Mode)
- Power Supply:DC5V (Power supplied through USB)
- Support OS: Windows 7, Windows Vista, WinXP, Win2000, Mac 10.3.X above, Linux 2.6.X above
- Operating Temperature:5?~ 55?
- Storage Temperature:-40?~ 70?
- Capacity: 640GB, 500GB, 320GB
- Color: Blue
- Three-year warranty
About Silicon Power
Silicon Power Computer & Communications Inc., founded by a group of specialists with more than 20 years experience in the field of international trading, global marketing, technical know-how of flash data storage products, is the world's leading manufacturer of flash memory cards, USB flash drives, DRAMS, and card readers. We are also the initiator to offer Lifetime Warranty service both for the Flash Memory Card series and USB Flash Drive products. At the heart of Silicon Power, it exists a strong atmosphere of "Sharing, Caring, and of being Trustworthy." These are our finest commitments at the core. Recognized and supported in over 90 countries, Silicon Power provides fast, international lifetime service and superior products. Silicon Power makes a remarkable and successful achievement in the global community. The company is headquartered in Taipei and has established branches worldwide including the Netherlands and Japan.
Last updated: Apr 7, 2020 at 12:02 pm CDT