-- GIGABYTE First with USB 3.0 Mini-ITX Motherboard --
-- Multimedia Powerhouse GA-H55N-USB3 Brings SuperSpeed USB 3.0, 3X USB Power to Small Form Factor Hi-Def Home Entertainment Platform --
Taipei, Taiwan, May 24, 2010 - GIGABYTE TECHNOLOGY Co., Ltd, a leading manufacturer of motherboards, graphics cards and other computing hardware solutions today is proud to unleash the world's first USB 3.0 mini-ITX form factor
GA-H55N-USB3 motherboard
, featuring SuperSpeed USB (USB 3.0), HDMI interface, as well as a host of unique GIGABYTE features such as Ultra Durable™ 3, 3x USB Power, On/Off Charge.
"The GIGABYTE GA-H55N-USB3 was designed specifically for users wanting to build the ultimate home entertainment PC; small and sleek enough to seamlessly fit into the living room as part of the home, yet powerful enough to easily transfer, store and view today's many types of digital media content, whatever the format," commented Tim Handley, Deputy Director of Motherboard Marketing at GIGABYTE Technology Co. Ltd. "Not only does the GA-H55N-USB3 offer one of the industry's most exciting integrated graphics solutions with flawless HD video playback, it also allows users to spend less time waiting for their content to transfer, and more time to actually enjoy it due to its USB 3.0 GIGABYTE 3x USB Power Boost features."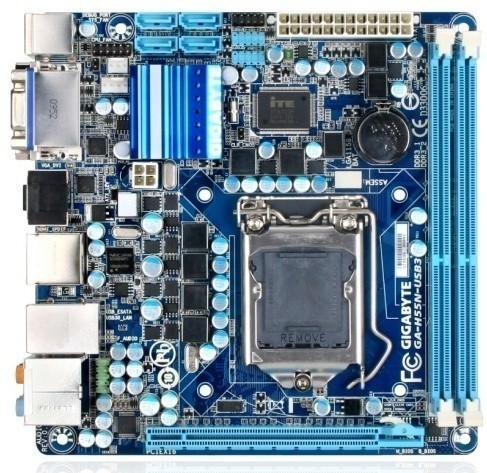 owered by the Intel® H55 chipset and supporting the latest Intel® Core™ i5 and Core™i3 LGA 1156 socket processors with integrated on-die graphics, the GIGABYTE GA-H55N-USB3 motherboard provides exceptional high definition content playback unmatched by previous integrated graphic solutions. The GIGABYTE GA-H55N-USB3 is also equipped with GIGABYTE 3x USB Power Boost and USB 3.0 support by utilizing the industry-leading NEC® controller, ensuring users are able to take advantage the next wave of high speed data transfer and storage technologies. Also supported is GIGABYTE's latest On/Off Charge technology, allowing users to fast charge their Apple devices including iPads, iPhones and iPod Touch devices even when the PS is powered off.
GIGABYTE has also designed the GA-H55N-USB3 motherboard to withstand the rigors of an always on device, both in terms of energy efficiency and temperature. Featuring the unique GIGABYTE Ultra Durable™ 3 design utilizing 2x the amount of copper of a traditional motherboard PCB, the GIGABYTE GA-H55N-USB3 provides better power efficiency and lower operating temperatures. The GA-H55N-USB3 is also equipped with the GIGABYTE Dynamic Energy Saver™ 2 for an even greater level of system-wide power savings and DualBIOS™ technology, which provides a back-up BIOS chip in case the main BIOS becomes corrupted or damaged.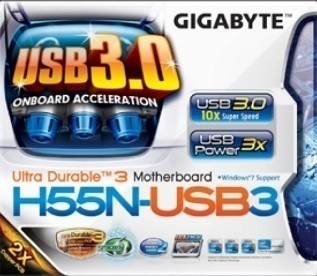 More information about the GIGABYTE GA-H55N-USB3 motherboard is available from:
http://www.gigabyte.com.tw/Products/Motherboard/Products_Spec.aspx?ProductID=3455
USB 3.0 Support
The GIGABYTE GA-H55N-USB3 motherboard supports the latest generation SuperSpeed USB 3.0 technology made possible through an onboard NEC uPD720200 host controller. With superfast transfer rates of up to 5 Gbps, users are able to experience an almost a 10x improvement over USB 2.0. Additionally, backwards compatibility with USB 2.0 assures users of long term use of their legacy USB 2.0 devices. The onboard NEC SuperSpeed USB 3.0 technology also provides new power management features that include increased maximum bus power and device current draw to better accommodate power-hungry devices.
3x USB Power Boost
The GIGABYTE GA-H55N-USB3 motherboard features a 3x USB power boost, delivering greater compatibility and extra power for USB devices. GIGABYTE's unique USB power design is also able to efficiently regulate output over the full voltage range, which greatly enhances USB device compatibility. In addition, dedicated lower resistance fuses ensure lower voltage drops, and provide more stable and plentiful power delivery.
On/Off Charge Support
GIGABYTE On/Off Charge technology that enables faster iPhone, iPad and iPod Touch charging. A derivative of GIGABYTE's highly acclaimed 3x USB Power feature, On/Off Charge technology allows iPhone, iPad and iPod touch devices to draw more current from GIGABYTE motherboard USB ports than standard USB ports allow, with the added benefit that the PC can be on, in standby mode or even off.
About GIGABYTE Upgrade Your Life
GIGABYTE, headquartered in Taipei, Taiwan, is known as a global leading brand in the IT industry, with employees and business channels in almost every country. Founded in 1986, GIGABYTE started as a research and development team and has since taken the lead in the world's motherboard market. On top of motherboards and graphics accelerators, GIGABYTE further expanded its product portfolio to include notebook and desktop PCs, digital home entertainment appliances, networking servers, communications, mobile and handheld devices, servicing every facet of people's lives at home or business. Everyday GIGABYTE aims to "Upgrade Your Life" with the most innovative designs and impeccable quality and services. Visit www.gigabyte.com.tw for more information.
Last updated: Apr 7, 2020 at 12:01 pm CDT