Inno3D Introduces i-ChiLL Black Series GTX 470 Graphics Card
Inno3D is excited to launch the i-ChiLL GeForce GTX 470 Black Series equipped with liquid cooling technology. The "full cover" water-block cools the GPU, Voltage Regulators, I/O chip, memory modules, and other critical components allowing for longer care-free gaming knowing your GPU is well looked after. This is definitely the ultimate cooling solution for enthusiast gamers.
In the i-ChiLL Black Series system, the water block first takes up the heat and passes it to the water flowing into it. Through the hose system, the water carries the heat to the radiator. Once it arrives in the radiator, the water passes the heat to the air via the ribs. The thinner the ribs and the larger the radiator's surface is as a result, the more powerful the cooling system. The "cooled" water flows from the outlet side of the radiator back into the CPU water block. The air flow within the water block is also important in ensuring adequate cooling. That is because the more thermal discharge the water can absorb from the surrounding material in the block, the better the cooling performance.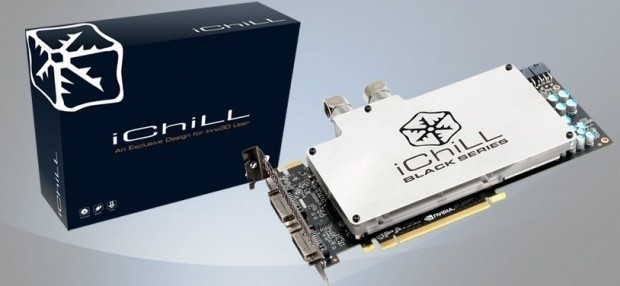 The Black Series water-block offers superior thermal performance at the GPU level thanks to the Direct-Flow design on Inlet/Outlet. High thermal conductivity grease pads are pre-applied in the memory and MOSFET areas for user convenience. Short barb fittings are included for 1/4" tubing and are compatible with quad SLI setups. Dimension ( LxWxH ) : 240x105x180 MM (Out-Line); Thread : G1/4" x 2.
Included :
1. Fujipoly GR-d Thermal PAD
2. Backup O-Ring for VG-NGTX295B x 1
3. BP-BS90R Black Sparkle Rotary Angle IG1/4" Adapter x2
4. BP-BSWP-C07 Black Sparkle Direct-Plug Adapter x 1 / SLI connection tube (3 lengths)
5. Mounting Screws/Accessories -EZ-PLUG Mounting available.(PAT. Pending)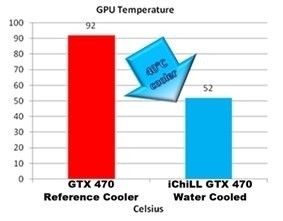 Last updated: Apr 7, 2020 at 12:01 pm CDT