OCZ Technology Introduces the Fatal1ty 750W Modular Power Supply
High-Performance PSU Meets the Demands of Gamers and System Builders with Low-Profile Cabling
SAN JOSE, CA-May 17, 2010-OCZ Technology Group, Inc. (Nasdaq: OCZ), a worldwide leading provider of high-performance solid-state drives (SSDs), memory modules, and power supplies for computing devices and systems, unveils the Fatal1ty 750 Watt power supply, a new high-performance PSU targeted at gamers and enthusiasts that prefer modular cabling.
OCZ is dedicated to delivering premium power solutions, and the new 750W was co-developed with Johnathan "Fatal1ty" Wendel, twelve-time World champion, to meet the specific needs of fellow gamers. "I worked with OCZ on this new modular 750W Fatal1ty power supply to give the strength and power to my PC; I need to win!!," stated Johnathan "Fatal1ty'" Wendel. Featuring new "low-profile" flat modular cabling with efficiencies in airflow and control, the Fatal1ty 750W PSU not only provides stable, efficient power, but also unique, user-friendly connectors that promote greater flexibility and organization inside the PC case. Featuring glowing red LED lights to add style, Fatal1ty power supplies are an ideal upgrade for users who need a computer setup able to take on hours of non-stop gaming. Additionally, Fatal1ty 750W power supplies are designed to perform even at elevated temperatures of up to 45°C, nearly twice that of the industry standard.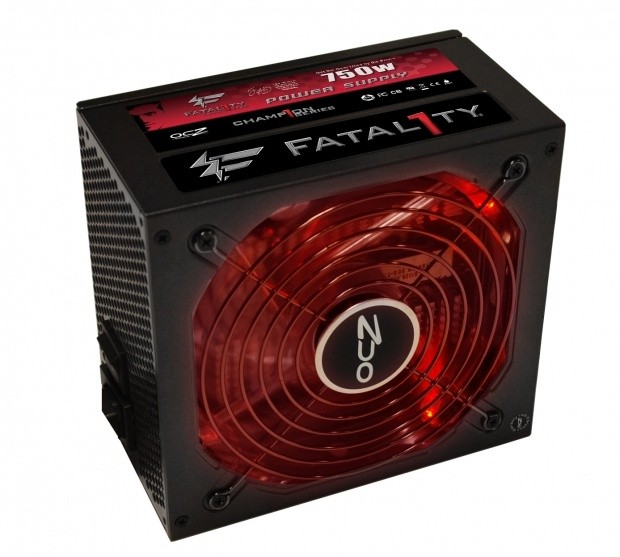 "Working with Fatal1ty to build the ultimate PSU for a high-performance gaming environment was a great experience," commented Ryan Edwards, Director of Product Management at OCZ Technology. "Jonathan and OCZ share a common commitment to performance and reliability aimed at supporting the user in even the most intense competitive gaming and enthusiast environments. With the new Fatal1ty 750, gamers and power users alike can be confident their system is fueled by a top-notch PSU with the latest in technology and design."
The Fatal1ty 750W features a single +12V rail for maximum and efficient power distribution, a thermally controlled 135mm double-ball bearing fan for airflow at near-silent audible noise levels, and an array of connectors for multiple power-hungry drives and video cards. Offering excellent energy and cost-savings, the Fatal1ty 750W has an 80-Plus® Bronze certification, converting up to a full 85% of AC to DC power at typical loads.
Fully compliant with the latest ATX12V and EPS12V specifications, the Fatal1ty 750W Series accommodates a wide range of cases, and comes backed by a 5-year warranty and tech support for additional peace of mind.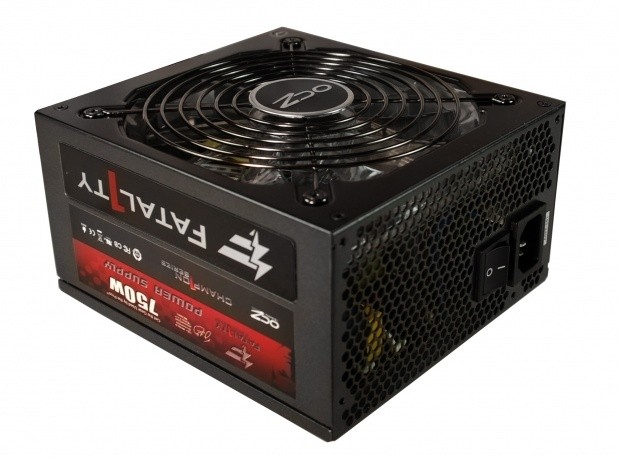 For more information on the OCZ Fatal1ty 750W modular power supply, please visit our product page
here
.
About Johnathan "Fatal1ty" Wendel
Johnathan "Fatal1ty" Wendel became the world's first full time professional video gamer in 1999 and since then has dominated competitions all over the world, winning an unprecedented 12 world titles in 5 different games. His dedication to the concept of competitive video gaming led him to create a range of gaming gear that carries the Fatal1ty Brand. Additionally, at the Copenhagen eSport Challenge, Johnathan "Fatal1ty" Wendel achieved the Guinness world record through playing Quake 4 death match with five rotating opponents and gaining 671 frags in 1 hour. In honor of his contributions, Johnathan was awarded the first ever Lifetime Achievement Award in the four-year history of the eSports-Award for "showing exceptional sportsmanship, taking part in shaping eSports into what it is today and for being the prime representative of this young sport. He has become the figurehead for eSports worldwide."
About OCZ Technology Group, Inc.
Founded in 2002, San Jose, CA-based OCZ Technology Group, Inc. ("OCZ") is a leader in the design, manufacturing, and distribution of high performance and reliable Solid State Drives (SSDs) and premium computer components. OCZ has built on its expertise in high-speed memory to become a leader in the SSD market, a technology that competes with traditional rotating magnetic hard disk drives (HDDs). SSDs are faster, more reliable, generate less heat and use significantly less power than the HDDs used in the majority of computers today. In addition to SSD technology, OCZ also offers high performance components for computing devices and systems, including enterprise-class power management products as well leading-edge computer gaming solutions. For more information, please visit: www.ocztechnology.com.
Last updated: Apr 7, 2020 at 12:01 pm CDT