Introducing the All New iStoragePro 8 Bay Tower
iStoragePro proudly introduces the newly designed
8 Bay Tower Series
. The series is 30% more light weight and compact than its predecessor, with both
SAS Expander
, and MiniSAS options. With iStoragePro you have control over your disk capacity, whether you want a limited amount of space with the MiniSAS verion or whether you want to drastically increase your capacity with the SAS Expander version.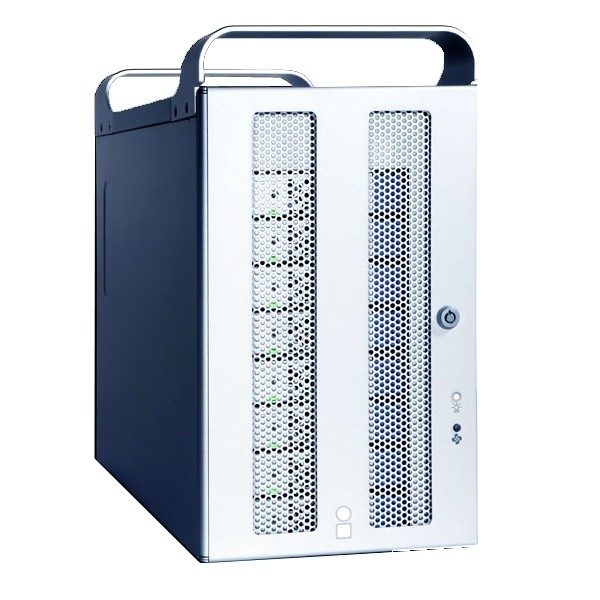 The all new iStoragePro Tower is designed for everyone. Anywhere from the small or mid sized business, and the in-home office, to the large scale corporation can take advantage of the new tower solution. You may find yourself questioning how much space you need, while at the same time you may not want to invest in a rack-mount solution. Or, even if you do want a lot of disk capacity, say over 160 TB of space, than the Tower solution may still be more practical for you because you do not need to suffer the consequences of stacking rack-mounts or buying a cabinet. The MiniSAS can be a great solution for any small sized storage solution whereas the SAS Expander edition can be a great solution for any enterprise level company or individual who requires mass storage.
With the MiniSAS Tower there are up to eight bays, which means that you can have up to 16 TB of storage capacity for a single unit. However, if you need more storage capacity than this, but you do not want to stack rack-mounts you can use the iStoragePro SAS Expander Tower, which can daisy chain 10 Towers together for one storage configuration, which ads up to a maximum of up to 160TB of capacity! If you need this kind of capacity, this is a much more efficient and cost effective solution than purchasing a mobile cart (cabinet) for the rack-mount.
From recent testing we have determined the exact speeds of the newly designed iStoragePro Tower 8 Bay. The MiniSAS Tower is equipped with two MiniSAS 8088 connectors, which write at 650 megabytes per second and read at 690 megabytes per second. The SAS Expander has three MiniSAS 8088 connectors, two for the host interface and an extra one for daisy chaining, and it reads and writes even faster than the MiniSAS with writing speeds of 728 megabytes per second and reading speeds of up to 748 megabytes per second.
This system is faster than any model of its kind from other manufacturers, and with an aluminum chassis, up to 160 Terabytes of disk space, and at a competitive price, the all new iStoragePro Tower 8 Bay series clearly stands out as a beast among mid level enterprise storage solutions. And, all iStoragePro products are backed up with a guaranteed three year warranty, and a reputable customer service team dedicated to your technical needs, so you do not need to worry about anything after purchase.
The iStoragePro Tower series is foremost an outstanding solution for independent, or even major motion picture video editors. With the MiniSAS JBOD system, you can easily configure the tower right next to your Mac Pro, as its design seamlessly integrates to Apple's style. And, the Tower easily configures with any video editing program such as Final Cut Pro or Adobe Premier as well as any other graphic arts program.
Last updated: Apr 7, 2020 at 12:01 pm CDT