MSI Announced New Big Bang Gaming Series Mainboard -- Big Bang-XPower
Get Ready to Unlock the Ultimate Weapon
The MSI Big Bang-XPower is making its much anticipated debut in April of this year. MSI, a leading mainboard and graphics card maker, with over 23 years of R&D and manufacturing experience, has made its name catering to performance-hungry gamers. The Big Bang-XPower is another exceptional mainboard from the Big Bang series with astonishing performance and reliability. MSI is confident that the Big Bang-XPower will again be selling like hotcakes to users worldwide.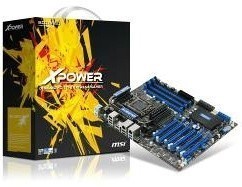 Military Class Components
MSI's Big Bang-XPower mainboard is built with Military Class components that includes a Hi-c CAP (highly-conductive polymerized capacitor), Solid Cap (solid capacitor), and Icy Choke for longer lifespan, better thermal reliability, and stability. The Hi-c CAP has excellent physical properties of thermally stable, reliable, performs under stress, and lasts 8X longer than traditional solid capacitors. Icy Choke is a new generation ferrite choke that features low temperature and longer lifespan. Military Class Solid CAP lasts longer than traditional capacitors, up to 10 years of lifespan. All these Military Class components add up to a stable and long lasting mainboard that will keep running even under high stress conditions.
Ultimate Gaming Visual and Audio Experience
MSI's Big Bang-XPower is the only recommended mainboard by THQ for experiencing Metro 2033, their blockbuster survival horror FPS. The Big Bang-XPower supports both NVIDIA SLI and ATI CrossFireX technologies for gaming sessions powered by up to four graphics cards. This configuration enables unparalleled 3D performance, silky smooth action scenes, excellent color reproduction, and fully anti-aliased image quality. Bundled standalone Quantum Wave sound card has built-in Creative EAX® ADVANCED HD™ 5.0 and THX TruStudio PRO technology support the latest surround sound standard, to offer multi-channel in-game audio presented with digital clarity.
Extreme Power Design For Overclocking
The Big Bang-XPower features incomparable 16 Phase DrMOS PWM, which not only provides the highest power capability but also the best power efficiency. Coupled with Dual 8-pin CPU Power Connectors, Big Bang-XPower can offer the best power stability and overclocking capability for new high-end six-core CPU like Intel Core i7 980X (Codename "Gulftown"). Big Bang-XPower also supports Extra 6-pin Power Connector for graphics card. New generation graphics card draw incredible power to achieve high performance. In order to provide the best 3D performance and overclocking stability of enthusiastic Multi-GPU configuration, MSI designed exclusive extra 6-pin power connector for hardcore gamers and overclockers.

MSI's Exclusive OC Genie & OC Dashboard and V-Kit Design
The Big Bang-XPower comes with MSI's exclusive OC Genie and OC Dashboard for overclocking needs, where the CPU frequency can be automatically adjusted through the hardware and BIOS options. The XPower also features the V-Kit design to provide monitoring and adjustment capability of the CPU VCORE, VTT, DDR, and PCH voltages. Gamers can easily configure their systems without breaking a sweat.
USB3.0 & SATA 6Gb/s for Next-gen Data Transfer
The Big Bang-XPower adopts the latest USB3.0 & SATA6Gb/s specifications. USB3.0 is 10X faster than the traditional USB2.0 platform, and has the throughput to transfer a full Blu-ray movie in under a minute. SATA 6Gb/s not only doubles the bandwidth of previous SATA II protocol, but is also more reliable with better data handling commands. The Big Bang-XPower offers fast and secure data management capabilities to satisfy consumer needs.
THQ, a worldwide international American developer and publisher of video games, officially announced the MSI Big Bang-XPower as the preferred platform for Metro 2033. Metro 2033 is a THQ published survival horror FPS and is being hailed as the most graphically challenging game for top-end hardware specifications. MSI is also dedicated to building the ultimate gamers' platform that will fulfill all your wildest dreams.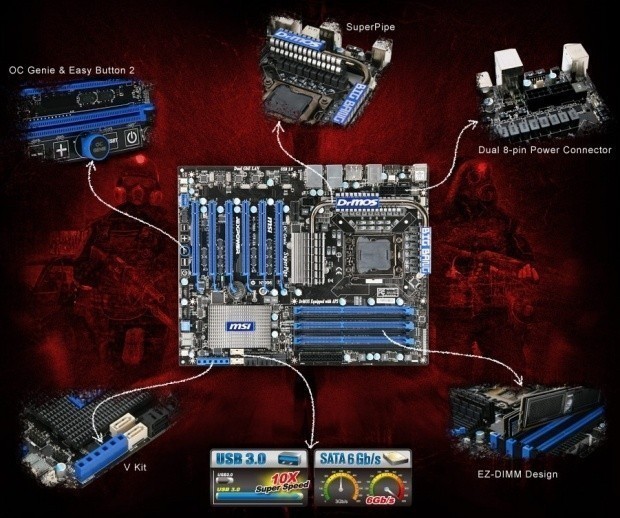 More information can be found at:
http://event.msi.com/mb/bigbang/xpower
Last updated: Apr 7, 2020 at 12:01 pm CDT