Microsoft Announces Chief Financial Officer Transition
Chris Liddell to leave Microsoft Dec. 31; Peter Klein assuming CFO role.
REDMOND, Wash. - Nov. 24, 2009 - Microsoft Corp. today announced that Chris Liddell will be leaving the company at the end of 2009, and named Peter Klein as the company's new chief financial officer.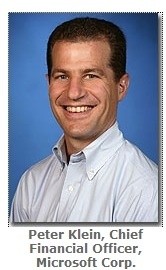 "Chris and his finance team have accomplished a great deal over the past four and a half years. The team is deep and strong, and has an excellent record of building value for our shareholders," said Steve Ballmer, Microsoft chief executive officer. "Peter brings great finance and operations expertise and a deep understanding of the company, and I am looking forward to a smooth transition that continues our commitment to cost containment and finance excellence."
In the past fiscal year, Microsoft reduced costs by $3 billion compared with its original plan, and returned $14 billion to shareholders through dividends and stock buy-back.
Klein, 47, joined Microsoft in February 2002 and currently serves as CFO of Microsoft's Business Division, overseeing all financial strategy, management and reporting for the $18.9 billion business with 7,800 full-time employees. Previously, Klein served three years as CFO of Microsoft's Server and Tools Business.
"My time at Microsoft has been an outstanding experience, and I am delighted to be leaving the company in such great shape," Liddell said. "We have built a world-class finance team and established strong internal accountability. Microsoft is coming out of the economic downturn with not only great product momentum but also strong discipline around costs and a focus on driving shareholder value."
Liddell, 51, joined Microsoft in May 2005 after serving as CFO at International Paper Co., and chief executive officer of Carter Holt Harvey Ltd., then New Zealand's second-largest listed company. He said he is looking at a number of opportunities that will expand his career beyond being a CFO.
Liddell will continue at Microsoft working closely with Klein through Dec. 31, to ensure a smooth transition.
Before joining Microsoft, Klein spent 13 years in corporate finance, primarily in the communications and technology sectors: McCaw Cellular Communications; Orca Bay Capital, a private equity firm; and several startups, including HomeGrocer.com, where as vice president and treasurer he helped lead an IPO and subsequent acquisition by Webvan.
"I'm honored to take on the role of Microsoft CFO. I've learned a lot working with Chris, and I'm excited about the opportunities ahead for Microsoft," said Klein. "We have an incredible pipeline of products, we have strong financial and operational accountability, and we are well-positioned for growth as the economy recovers."
Klein holds a bachelor's degree from Yale University and an MBA from the University of Washington. Outside of work, he is an avid sports fan and serves on the board of NPower Seattle, a nonprofit organization dedicated to enhancing the effectiveness of nonprofit service providers through technology. He and his wife have two sons.
About Microsoft
Founded in 1975, Microsoft (Nasdaq "MSFT") is the worldwide leader in software, services and solutions that help people and businesses realize their full potential.
Note to editors: If you are interested in viewing additional information on Microsoft, please visit the Microsoft Web page at http://www.microsoft.com/presspass on Microsoft's corporate information pages. Web links, telephone numbers and titles were correct at time of publication, but may since have changed. For additional assistance, journalists and analysts may contact Microsoft's Rapid Response Team or other appropriate contacts listed at http://www.microsoft.com/presspass/contactpr.mspx.
Last updated: Apr 7, 2020 at 12:00 pm CDT