ASRock New Product Release - P55DE3 Motherboard
Are you ready to get excitement about Intel's Core i5 processor? If so, then you're pretty suitable to read this great news. Today, ASRock is pleased to introduce this brand new Intel® P55 chipset motherboard, P55DE3, which provides the highest price and performance ratio motherboard to you! Read on the following pages and you will know why ASRock P55DE3 is going to be a worthwhile investment right down through the mainstream heartland of PC users.
Carried with the latest Intel® P55 chipset, ASRock P55DE3 supports the Intel® Core i7 / Core i5 processors in the LGA 1156 package. You can take advantages of Intel® Turbo Boost technology and Intel® Turbo Boost Monitor by our P55DE3 motherboard. While Intel® Turbo Boost Technology automatically accelerates performance to applications that need it most, Intel® Turbo Boost Monitor allows you to monitor the CPU Turbo Boost frequency more conveniently!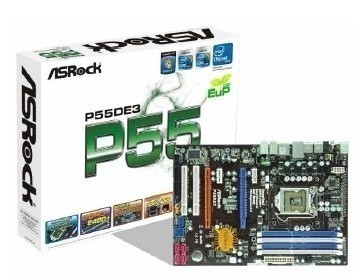 For hardware aspect, P55DE3 is an ATX form factor board, comes with 4 DIMM slots capable of supporting dual channel DDR3 2400+ (OC) memory, 2 PCIE 2.0 x 16 slots supporting ATI™ CrossFireX™ and Quad CrossFireX™. The exclusive C.C.O. lets you use old LGA775 coolers by providing extra mounting holes; power eSATA/USB connector enables the dual interfaces; Gigabit LAN offers you the high speed network connectivity; 7.1 CH HD audio (ALC888) brings you the high quality audio experience especially with Coaxial/Optical S/PDIF Out. And as usual, P55DE3 is bundled with all ASRock's unique software, such as Instant Boot, Instant Flash, EZ OC, OC Tuner, IES, OC DNA and multi-speed fan control. Special introduce here is our innovative function named Good Night LED. With this, you will no need to worry about the unnecessary LED lights anymore. Last but not least, ASRock P55DE3 is compatible with Microsoft® Windows® 7 and has achieved the EuP standard as well.

World's First EuP Ready Motherboard Manufacturer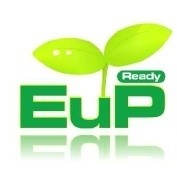 EuP, stands for Energy Using Product, was a provision regulated by European Union to define the power consumption for the completed system. According to EuP, the total AC power of the completed system shall be under 1.00W in off mode condition.
To meet EuP standard, the EuP ready motherboard and the EuP ready power supply are required. As a motherboard vendor with eco-awareness, ASRock is the pioneer to develop "EuP Ready" motherboards based on the great efforts of our exceptional hardware design. *According to Intel, the EuP ready power supply must meet the standard of 5v standby power efficiency is higher than 50% under 100 mA current consumption.
Never miss our "EuP Ready" motherboard, and you can be so confident to setup a system to pass the EuP standard with ASRock P55DE3.
OC DNA
An exclusive utility developed by ASRock's outstanding RD team! It helps you to save your overclocking settings under the operating system and simplifies the complicated recording process of overclocking settings. With OC DNA, you can save your OC settings as a profile and send the profile to your friends! Your friends then can load the OC profile to their own system to get the same OC settings as yours! Note: The OC DNA works only when users use the same motherboard and BIOS version.
C.C.O. (Combo Cooler Option)
C.C.O., stands for Combo Cooler Option, is another exclusive hardware design on ASRock P55 boards. C.C.O. provides the flexible options to adopt different CPU cooler types and matches your socket LGA 775 / LGA 1156 CPU cooler in the
respective holes.
Multi-Speed Fan Control
The Multi-Speed Fan Control makes you easy to adjust the CPU/Chassis fan speed by adjusting the settings in BIOS or ASRock exclusive OC Tuner. You are able to set your ideal fan speed by tuning the fan speed from level 1 to 10 in BIOS or OC Tuner.
Good Night LED
ASRock Good Night LED technology offers you a better environment by extinguishing the unessential LED. By enabling Good Night LED in BIOS, the Power and Keyboard LED will be automatically switched off when the system is under Standby / Hibernation mode.
Intel Turbo Boost Monitor
It is a user-friendly tool which allows you to monitor the CPU Turbo Boost frequency more conveniently! Intel® Turbo Boost Monitor not only helps you to further trace your current CPU status dynamically, but also gets the optimal performance and energy efficiency!
If you have purchased ASRock motherboards before, you should definitely be familiar with other famous tools such as Instant Boot, Instant Flash, OC Tuner, IES... and so on. Surely, all of them are available in this board; you will never miss anything else by our P55DE3 motherboard. ASRock motherboards always deliver the best value from entry to performance level, and this is what you can't find elsewhere.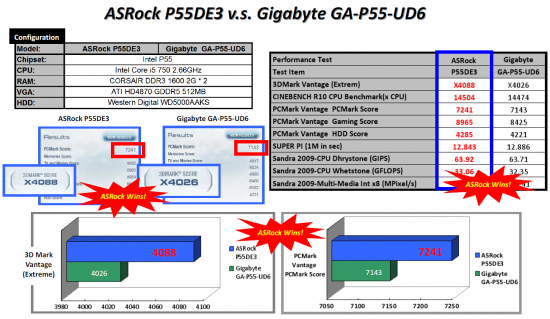 Last updated: Apr 7, 2020 at 12:00 pm CDT