Logitech Announces Financial Results for Q2 FY 2010
Company Exceeds Outlook, Expects Return to Profit Growth in Q3
FREMONT, Calif., Oct. 21, 2009 and ROMANEL-SUR-MORGES, Switzerland, Oct. 22, 2009 - Logitech International (SIX: LOGN) (Nasdaq: LOGI) today announced financial results for the second quarter of Fiscal Year 2010.
Sales for Q2 were $498 million, a decrease of 25 percent compared to $665 million in the same quarter last year. Excluding the unfavorable impact of exchange rate changes, sales decreased by 24 percent.
Operating income for Q2 was $27 million, compared to $80 million in the same quarter a year ago. Net income for the quarter was $21 million ($0.11 per share) compared to net income of $72 million ($0.39 per share) in Q2 FY 2009. Gross margin for the second quarter was 30.5 percent compared to 34.3 percent in Q2 FY 2009.
Logitech's retail sales for Q2 declined by 19 percent year over year, with sales down by 5 percent in the Americas, 24 percent in EMEA, and 28 percent in Asia. OEM sales were down by 54 percent.
"Our Q2 results demonstrate that we continue to deliver on our plan to navigate the downturn," said Gerald P. Quindlen, Logitech president and chief executive officer. "I was pleased that we delivered the predicted return to profitability, driven by a substantial improvement in gross margin compared to Q1 and our ongoing diligence in controlling expenses. Our sales and profitability both benefited from better-than-expected sell-through of our products in the Americas and EMEA.
"Our sustained focus on working capital management resulted in cash flow from operations of $133 million for the first half of the fiscal year. This represents an improvement of 59 percent compared to the first half of the prior year, in spite of dramatically worse economic conditions.
"We've entered the second half of Fiscal Year 2010 well positioned for continued improvements in our operating performance. In both EMEA and the Americas, the reset of our channel partners' weeks of supply is essentially complete. Our new products are being well received by customers and will be well represented on retail shelves for the holiday season. Even assuming no improvement in consumer spending, we anticipate a return to year-over-year profit growth starting in Q3."
Outlook
For the third quarter of FY 2010, Logitech expects sales within the range of $575 million to $595 million, gross margin of approximately 31 percent, and operating income in the range of $45 million to $50 million.
Earnings Teleconference and Webcast
Logitech will hold an earnings teleconference on Thursday, Oct. 22, 2009 at 8:30 a.m. Eastern Daylight Time and 14:30 Central European Summer Time. A live webcast of the call, along with presentation slides, will be available on the Logitech corporate Web site at http://ir.logitech.com.
About Logitech
Logitech is a world leader in personal peripherals, driving innovation in PC navigation, Internet communications, digital music, home-entertainment control, gaming and wireless devices. Founded in 1981, Logitech International is a Swiss public company listed on the SIX Swiss Exchange (LOGN) and on the Nasdaq Global Select Market (LOGI).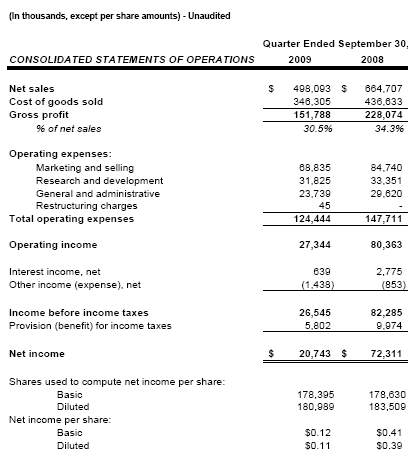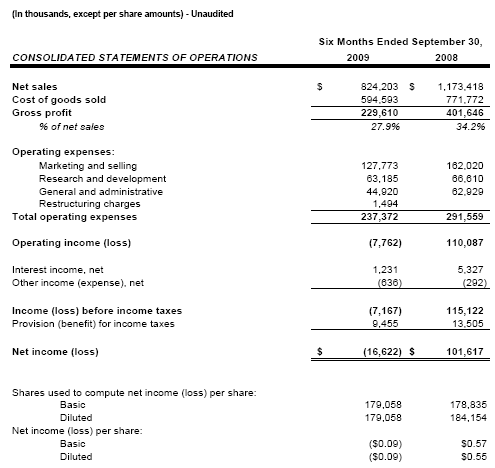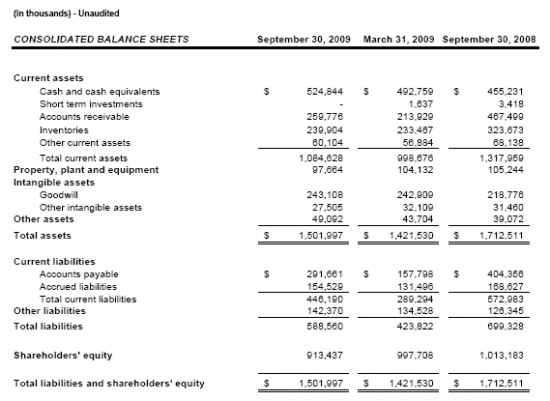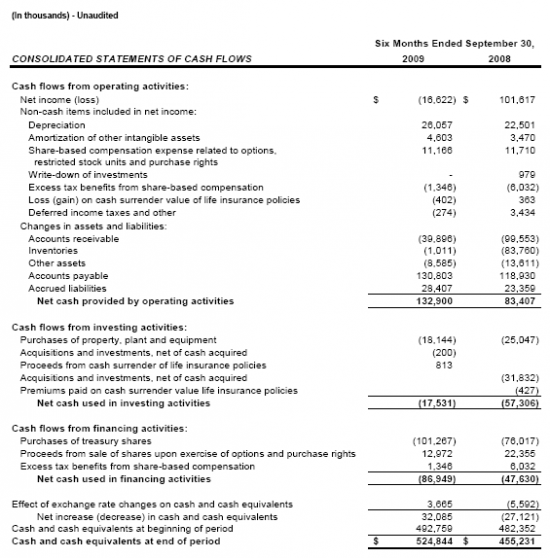 Last updated: Apr 7, 2020 at 12:00 pm CDT