iBUYPOWER Offers Power Bundle - MSI Netbook with Gaming Rigs PowerPower Bundle offers greater mobility and is cheaper than a desktop replacementEl Monte, CA - September 02, 2009 -
iBUYPOWER, a leading innovator in gaming PCs, is excited to announce the Power Bundle - Gaming PC + MSI Wind U100 Netbook. The four new bundle specials offer iBUYPOWER customers the opportunity to purchase a powerful, upgradeable gaming PC for home use, without sacrificing mobility.

With a power bundle, users have more flexibility. Purchasing one laptop for both mobile and home use requires a sacrifice in both mobility and gaming power. The lightweight netbook is more portable than a 17-inch desktop replacement, which can weigh as much as 20 pounds and is definitely not the ideal mobile solution for taking notes in class or studying in a coffee shop. Additionally, a traditional gaming PC offers a superior graphics, processing power, and upgradability to deliver a gaming experience that cannot be matched by any notebook.
The Power Bundle is also incredibly affordable - an MSI U100 netbook can be bundled with a desktop like the example below for as little as $249. Conversely, the cost of a gaming notebook can increase anywhere from $500-1000 when configured to match desktop performance.
iBUYPOWER also offer customers the opportunity to upgrade to the 12.1" MSI U210 Netbook, 13.4" MSI X320 or X340 Ultra Slim Notebooks, or the 16" CR600 Notebook.
FULL SPECS BELOW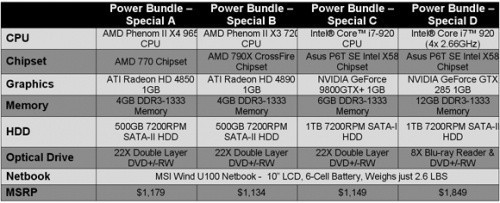 For additional information about iBUYPOWER please visit
www.iBUYPOWER.com
.
About iBUYPOWER
iBUYPOWER Computer, an enterprise in association with American Future Technology Corporation (AFT), is one of the largest system builders in the PC gaming industry. Located in Los Angeles County, iBUYPOWER's mission is to provide a complete computing solution to meet the needs of the surrounding community and customers nationwide. Currently, the company's product lines include gaming desktops, gaming notebooks, workstations, media center PCs, peripherals and multimedia products.
www.iBUYPOWER.com
Last updated: Apr 7, 2020 at 11:59 am CDT