Seoul, Korea - September 24, 2019 - WEBZEN, a global developer and publisher of PC and mobile games, released today the long-awaited 2.0 update of its mobile MMORPG MU ORIGIN 2.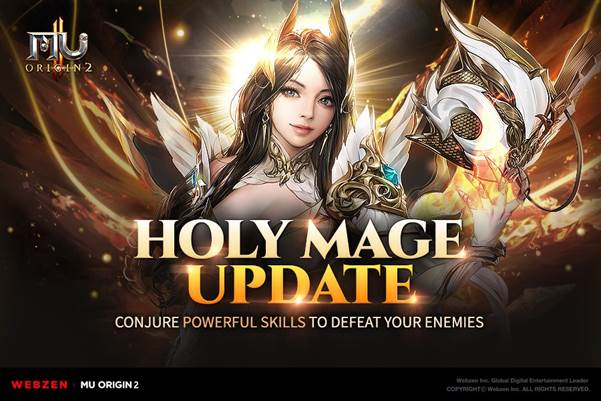 This 2.0 update brings a lot of new features including the new Holy Mage class, Seed Enhance, Costume Wardrobe, Roc Soul, Master Tree, Abyss Battle Core, World EXP Buff and much more.
The new class "Holy Mage" is the leader of the Holy light and specializes on using Holy magic to purify herself by removing all debuff effects, while buffing party members and providing them with heals, thus making her a true pillar to group PvP. Players can create this new character from the character selection screen without any special requirements.
Seed Enhance is a new feature that allows players to randomly enhance additional equipment attributes by using Seed Jewel and either Zen or Diamond. Players will be able to get Seed Jewels from the all new Abyss Battle Core which is a new 4v4 PvP match, running every day while Abyss is open.
The update also unlocks the new Costume Wardrobe, a feature to store costume, weapon, wings and artifacts which contain additional property bonuses, and Roc Soul which gives users the ability to reach the full potential of their wings through Roc Soul enhancement.
With the new Master Skill, players can decide between leveling up or investing their experience points to boost the ATK, HP, or DEF of their character. The main Master Trees are divided into three categories and can be activated sequentially from the first selected master tree. Activated Master Skills can also be reset using either Skill Reset Coupon or Diamond.
MU ORIGIN 2 has also added World EXP Buff to promote faster experience growth. Anyone who reaches level 160 or above will be able to receive an EXP bonus automatically in the game.
Furthermore, a level-cap increase, Kalutan map, Jewel Bonus, new Guardian Pets and Mount Skins, additional floors in the Infinite Tower, new servers, several tweaks, optimizations, and fixes have been included with the update and are now available in MU ORIGIN 2.
To accompany the launch of the 2.0 Update, the MU ORIGIN 2 team is holding special in-game events including log-in rewards, collection event, spending rewards, and more. Additionally, starting today and running until October 7th, Abyss Season 2 will open for players to collect Abyss Coins and exchange them for splendid Abyss Costumes.
MU ORIGIN 2 is available for free download on the Google Play Store and App Store in English, Portuguese and Spanish.